What are ship's bells used for?
Since at least the 15th century, bells have rung out over the seven seas. Bells onboard ships primarily serve a signaling function. Whether keeping time or sounding an alarm, a ship's bell is an indispensable instrument of a vessel's readiness. As such, the bell's use and maintenance is tasked to a dedicated crewmember. Traditionally, this was the ship's cook, but modern navies assign the bell's upkeep to a deck seaman or signalman.
While today we rely on satellite communications and digital timekeeping devices, crews of yore would mark the passage of time with an hourglass. Each half hour, the sand would run out and the glass would be tipped to start again. The ship's bell would then be sounded to mark the moment, with an additional toll after each half hour: once at the start of the watch, twice after 30 more minutes, three times after that, until eight strikes signaled the end of the four-hour watch.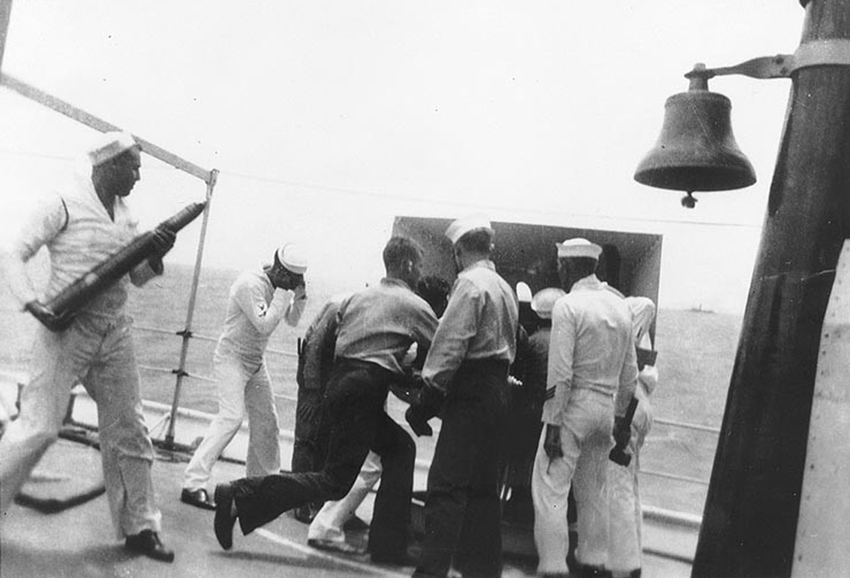 Image: Gunnery exercise onboard the USS Isabel (PY 10), circa 1933-1934. The ship's bell is mounted to the mast. Courtesy: Naval History and Heritage Command.
Ship's bells also warn other vessels of a ship's location in low visibility and heavy fog. The clear tocsin helps prevent maritime collisions. "In or near an area of restricted visibility, whether by day or night," states the Convention on the International Regulations for Preventing Collisions at Sea adopted in 1972, "a vessel at anchor shall at intervals of not more than one minute ring the bell rapidly for about 5 seconds."
Bells are also called upon to ring out an alarm in the event of fire. The number of tolls can indicate the location of the fire on the vessel. If a notable individual should come aboard, whether the ship's captain, commanding officer, or civilian dignitary, the ship's bell will also be sounded to announce the arrival.