Reading the bell
The bell was commissioned by the National Bell Festival and will be cast by B.A. Sunderlin Bellfoundry in Ruther Glen, Virginia. It will stand roughly 3 feet tall. Silver Tibetan coinage from the early 20th century will be added to the molten bronze during casting. The epigraph 'Truth Will Prevail' will be inscribed in Tibetan across the bell's surface, giving the bell its name.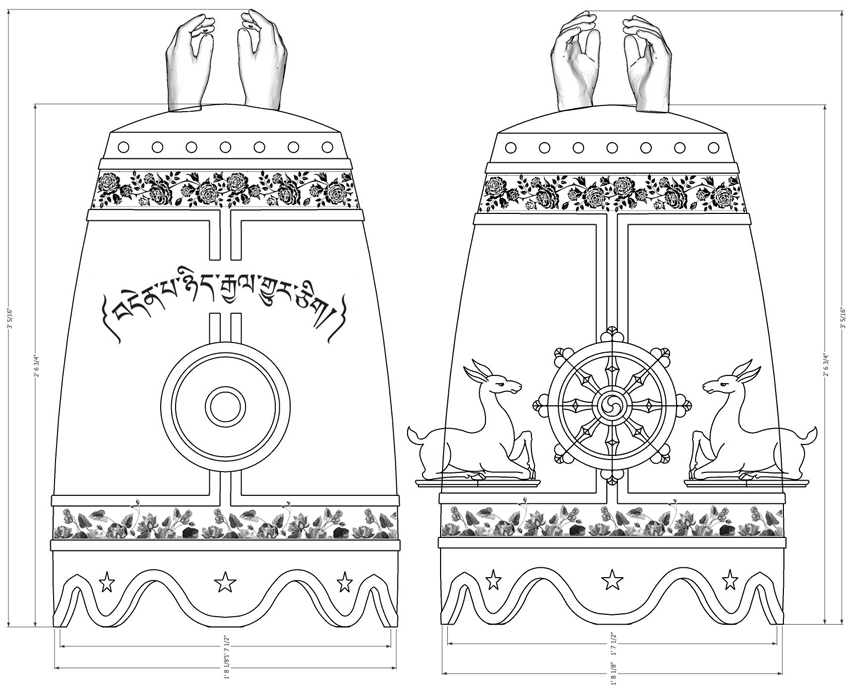 Image: Design rendering from B.A. Sunderlin Bellfoundry of the 'Truth Will Prevail' bell, which will be cast in bronze.
The bell is rich in iconography and meaning. Reading down from the canons to the scalloped rim:
Two hands clasped in friendship form a suspension loop by which the bell is carried or hung
High profile and sloping shoulders emulate the seated posture of Buddha
Bosses (raised partial spheres) arranged across the shoulder symbolize the fertility of earth and improve the bell's resonance
A garland of American Beauty roses, the official flower of D.C., hides the wood thrush, the state bird
The wheel of Dharma represents the eightfold path to enlightenment with the Three Jewels at center
Side panels divided by vertical ribbing host two deer reclining peacefully, the first to hear the teachings of the Buddha
The text 'Truth Will Prevail' is written in Tibetan
A bed of lotus, a symbol of spiritual awakening and purity, rises from the muddy waters in beauty
The round striking panel creates a reinforced spot where the bell is struck by mallet or swinging wooden beam
Stars and stripes allude to the coat of arms of the Washington family and the flag of D.C.
Scalloped rim of six lotus petals recalls archetypal bells from the Tibetan imperial period
The bell will not have a clapper. To ring, Tibetan bells are struck with a large beam or heavy mallet. The resonance of traditional Tibetan bells lasts considerably longer than from bells cast in the Western profile.
Section image: Monks gather on a balcony at a Buddhist monastery in Tibet.