U.S. Navy Celebrates 248th Birthday with Bell Ringing
On October 13, 1775, the Continental Congress issued a resolution establishing what was to become the U.S. Navy with "a swift sailing vessel, to carry ten carriage guns, and a proportionable number of swivels, with eighty men, be fitted, with all possible despatch, for a cruise of three months…." 
Later, the U.S. Constitution empowered the new Congress "to provide and maintain a navy." Since then, the United States has commanded the seas in defense of the homeland and our allies. In 1972, Chief of Naval Operations Admiral Elmo R. Zumwalt commemorated nearly two centuries of naval supremacy by authorizing October 13 as the official birthday of the U.S. Navy. 
Each year on this date, a Navy-wide celebration encourages understanding and appreciation of Navy history, heritage, and personnel. Most recently, October 13, 2023, marked the 248th birthday of the U.S. Navy. The organizing theme of this year's celebration was "248 Years of Power, Presence, and Protection," highlighting the U.S. Navy's historical and long-standing commitment to being forward deployed, highly trained, and dedicated to defending American interests at sea, on land, and in the sky.
From coast to coast, or rather more appropriately, from sea to shining sea, the occasion was celebrated with the tolling of ship's bells. Whether at stations and bases on the home front or aboard vessels deployed across the world, the sound of bells gave pause for Sailors to reflect on their collective and enduring mission. Here's to another quarter millennium of service.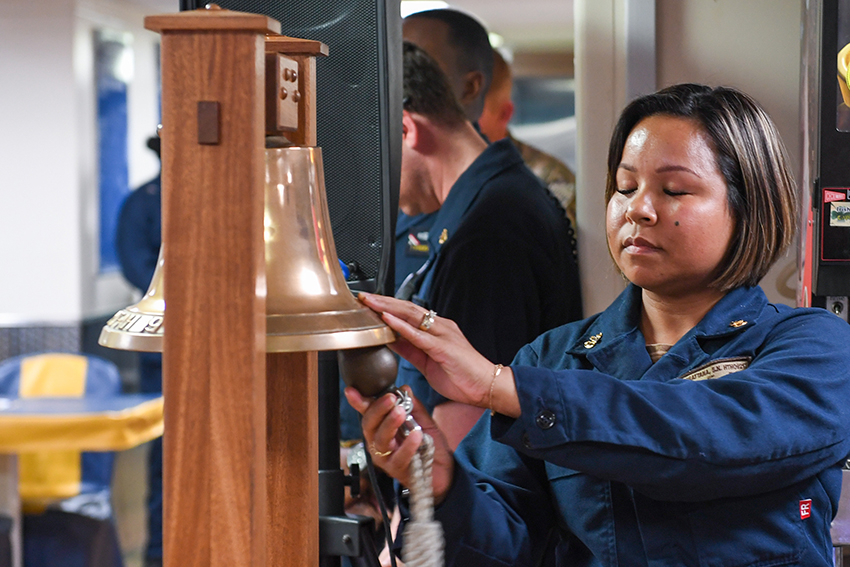 Image: Chief Hospital Corpsman Julie Thongratanna rings the ship's bell during a celebration of the Navy's 248th birthday aboard the hospital ship USNS Mercy (T-AH 19) while underway in the Pacific Ocean during Pacific Partnership 2024-1 on Oct. 13, 2023. Now in its 19th iteration, Pacific Partnership is the largest annual multinational humanitarian assistance and disaster relief preparedness mission conducted in the Indo-Pacific. Courtesy: Mass Communication Specialist Seaman Justin Ontiveros, U.S. Navy.*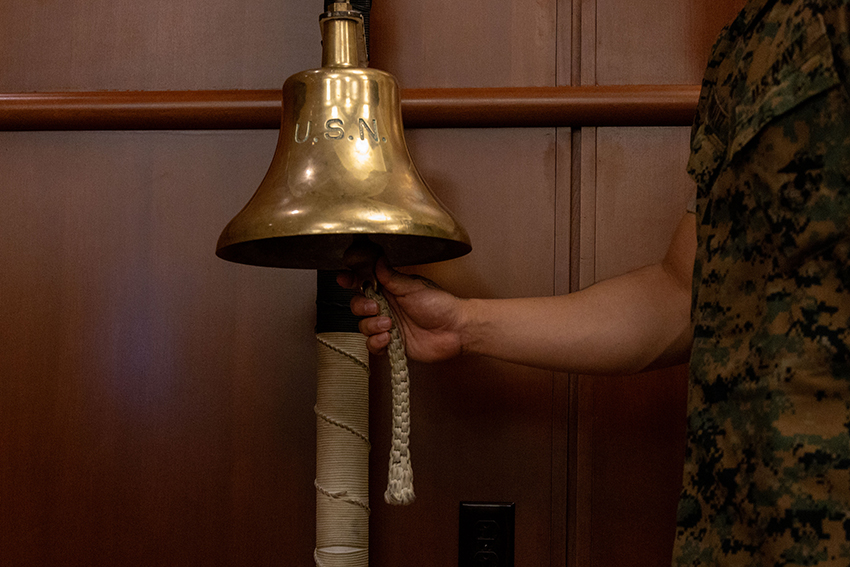 Image: U.S. Navy Petty Officer 2nd Class, Brian Gonzales, a Navy corpsman with 4th Marine Division Surgeon's Office, rings a bell during the Navy's 248th birthday ceremony at Marine Corps Support Facility New Orleans on Oct. 13, 2023. Marine Forces Reserve has over 1,000 sailors serving at more than 150 Home Training Centers across the nation supporting the mission to keep our honor clean as a reserve force, ready to fight and win our nation's battles. Courtesy: Lance Cpl. Casey Cooper, U.S. Marine Corps.*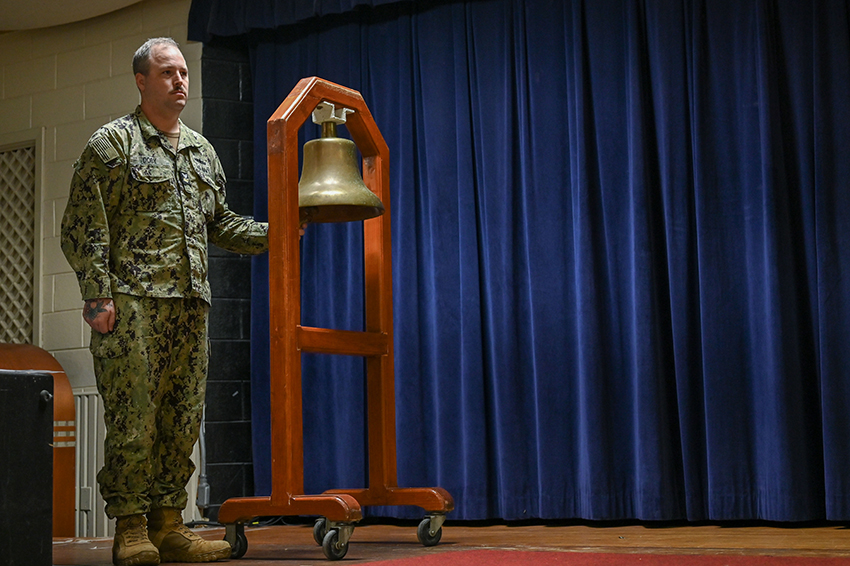 Image: Electronics Technician 1st Class Robert Doby rings the bell during a bell-ringing ceremony commemorating the Navy's 248th birthday in Diego Garcia, British Indian Ocean Territory, on Oct. 13, 2023. Courtesy: Mass Communication Specialist Seaman Jordan Steis, U.S. Navy.*
Cover image: Quartermaster 2nd Class Steven Pettit from Ionia, Michigan, rings the ceremonial bell on Oct. 12, 2023, during the POW/MIA table memorial at the annual Naval Air Facility Atsugi Navy ball held in celebration of the Navy's 248th birthday. Courtesy: Mass Communication Specialist 2nd Class Rafael Avelar, U.S. Navy.*
*The appearance of U.S. Department of Defense (DoD) visual information does not imply or constitute DoD endorsement.