A Cold Water Cold Case: The Missing Buoy Bells of Maine
It was the summer of 2018. The Miss America pageant announced an end to its swimsuit competition; the Queen of Soul, Aretha Franklin, was lost to pancreatic cancer; the British royal family was celebrating the young marriage of Meghan Markle to Prince Harry; and one by one, bells mounted on buoys off the coast of Maine were vanishing in the night.
 
What are buoy bells?
Buoy bells are bells mounted to buoys. This low-tech navigational aid saves untold costs and lives each year. The U.S. Coast Guard maintains a fleet of buoys in shallow, protected coastal waters. Buoys are anchored to the seabed at strategic points to indicate to passing ships the presence of potential navigational hazards submerged beneath the waves, like shoals, reefs, and rocks.
The buoys reach heights of up to 20 feet and can be seen from a distance of about two nautical miles in ideal daylight conditions, but how do they help at night, in rough weather, or in dense fog? Most buoys are topped with a small light, powered by batteries stored in the floating compartment. Many buoys also include sound signaling equipment in the form of a bell.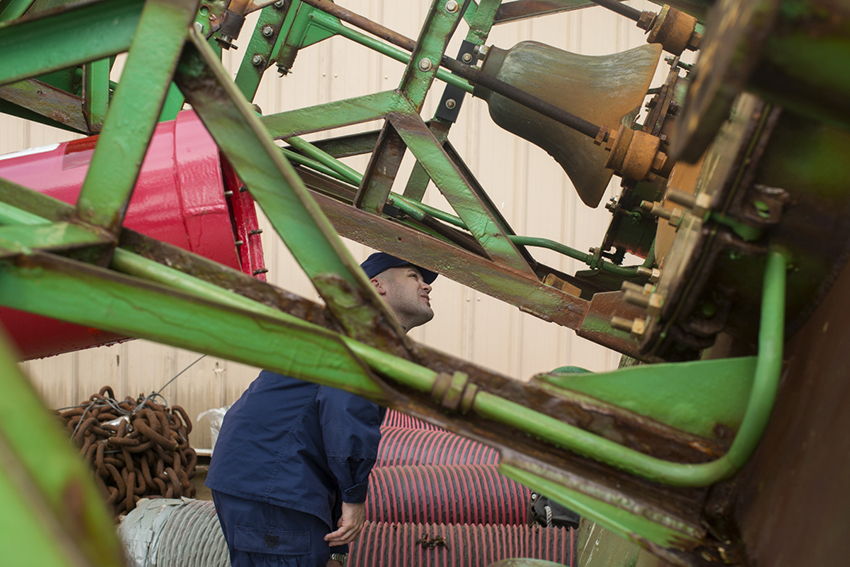 Image: Lt. Peter Fransson reads the U.S. Coast Guard markings on a buoy bell similar to the nine that have been stolen. Courtesy: U.S. Coast Guard via Portland Press Herald.
A buoy bell is cast in silicon bronze (a low-lead brass alloy generally composed of 96% copper) and weighs anywhere from 200 to 400 lbs. Silicon bronze is known for high resistance to corrosion, making buoy bells suitably equipped to withstand a wet and salty environment.
Mounted just above the floating compartment, a buoy bell is rung by the rocking of the buoy in the waves. As the buoy tips to one side, the clapper makes contact with the sound bow and the bell rings. When the buoy bobs the other way, the bell rings again. A buoy gong may also be deployed to similar effect. This tolling indicates the presence of an offshore hazard when the buoy itself cannot be seen.
Buoys are painted with distinctive colors and other markings to indicate their purpose and how to navigate around them. If damaged, extinguished, or sent adrift, the failed buoy is repaired, replaced, refueled, or relocated as quickly as possible. This is considered routine maintenance essential to shipping, as life at sea can be rough on buoys and their bells. But in the summer of 2018, Coast Guardsmen were working overtime to keep up with damage of another kind: buoy bell theft.
 
Nine bells go missing in Maine.
Over the course of several months, nine buoys had bells stolen from Penobscot Bay, an inlet of the Gulf of Maine and Atlantic Ocean. The affected buoys were:
Fox Island Thorofare Lighted Bell Buoy (entrance buoy for Fox Island Thorofare used by North Haven ferries) 
West Penobscot Bay Entrance Lighted Gong Buoy (entrance buoy marking West Penobscot Bay)
Eagle Island Gong Buoy (between Eagle Island and Deer Island marking passage through East Penobscot Bay)
Porcupine Ledge Bell Buoy (between Eagle Island and Deer Island marking passage through East Penobscot Bay)
Little Breaking Ledge Lighted Gong Buoy (marks hazardous ledge and aids passage to Chandler Bay or east entrance to Jonesport) 
Long Ledge Lighted Gong Buoy (southwest of Great Cranberry Island)
Wheeler Rocks Bell Buoy (marks a series of hazardous underwater rocks)
South Breaker Bell Buoy (Mussel Ridge Channel, Penobscot Bay)
White Bull Lighted Gong Buoy (east of Bailey Island) 
How could nine bells go missing – and why? These are just a couple of the questions asked by the U.S. Coast Guard, offering a cash reward for any information that might lead to resolution in the case or recovery of the stolen buoy bells. Few answers were given.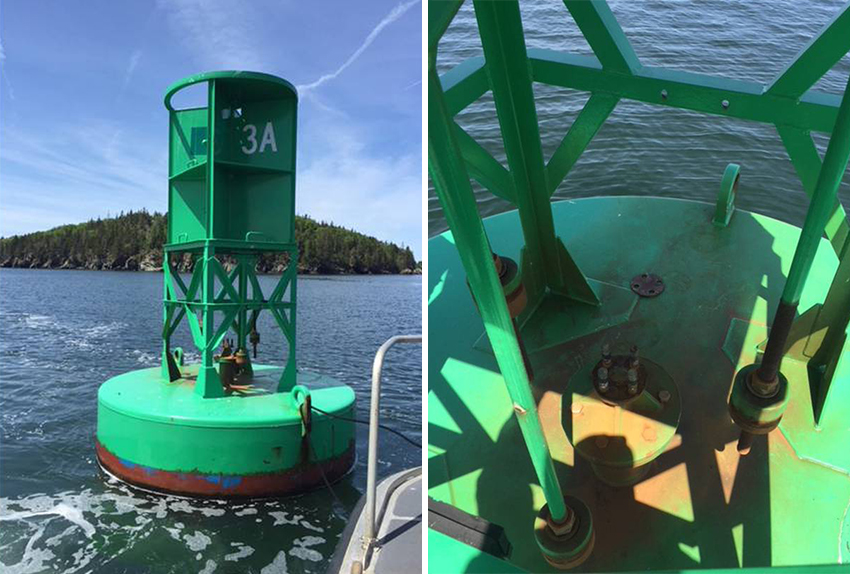 Image: An affected buoy off the coast of Maine (left). The space in which a sound-signaling bell typically hangs on this offshore buoy is empty after the bell was stolen (right). Courtesy: U.S. Coast Guard.
It is suspected the bells were stolen and sold for cold hard cash, as the resale value of the base metal copper has grown tremendously in recent years. Was it one audacious thief, a team of miscreants, or several copycat acts? That remains to be seen. Certainly, a seaworthy vessel of some size would be needed to pull off the heist, as a small skiff or rowboat wouldn't be up to the exposed open water or weight of the bells. Heavy equipment is also needed to remove the bells from their mounts.
Sailing out under cover of darkness and hoisting a 225-lb. bell assembly from unsteady buoy moorings seems like a precarious undertaking, but the thieves were likely hoping each bell might fetch several hundred dollars as scrap.
The risk certainly doesn't outweigh the reward. Stealing a sound signal from a buoy impedes the safe navigation of ships and puts mariners at grave risk. Should an accident at sea result from the buoy bells' absence, the perpetrators may be held liable. Stealing the bells is also a Federal crime, punishable with hefty penalties of up to $25,000 per day for each buoy bell or up to a year in prison. The bell thieves have cost taxpayers roughly $29,000 for replacement gongs and bells, in addition to the man hours of the boat crews at work.
 
Help solve the missing bell mystery.
Four years on and the case of the missing bells is still open with few actionable leads, although the rate of bell thefts has decreased. Nonetheless, the U.S. Coast Guard is still keen to see justice served. The reward for any information that leads to the retrieval of the bells or an arrest and conviction could be worth up to half of the fines levied against the culprits – a sizable sum, indeed.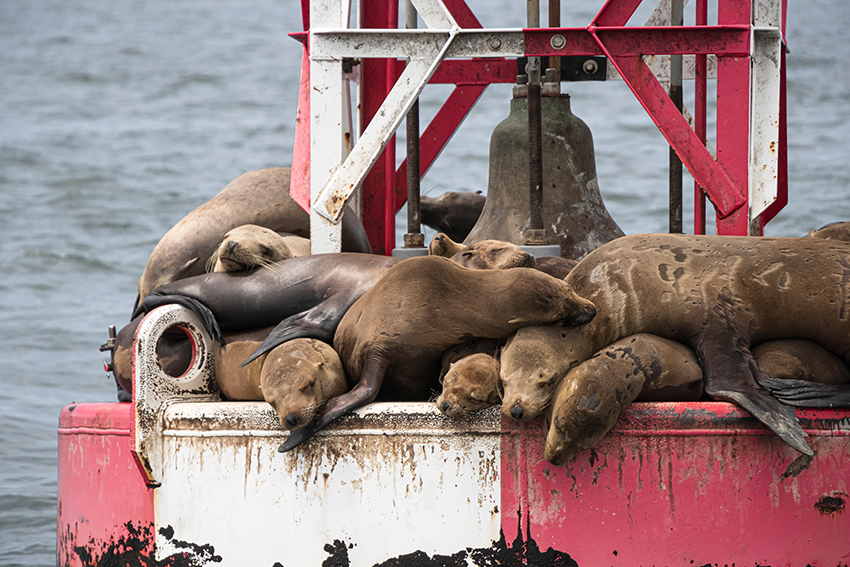 Image: Sea lions rest on (guard?) a red and white buoy marking the entrance to a harbor with a buoy bell safely in its mounting.
Do you have any tips or insight? Phone the U.S. Coast Guard Sector Northern New England command center in Portland at: (207) 767-0303