Classifying and collecting handheld bells
The value and appeal of many handheld bells rests solely in their style and charm, making them sought-after collectibles. Handheld bells may be categorized most easily by the function they served in society, by their general shape and profile, or by the materials with which they were crafted. Still others are denoted in annual series by the year in which they were made, as commemorative keepsakes around special occasions or holidays.
Most handheld bells have two main parts: the handle and the bell. Some artisans choose to blur the lines between the two, sculpting figurine bells where the clapper is hidden within the lower portion of a complete figure. This might be styled as a woman wearing a large skirt, the skirt then forming the dome of the bell. Other artists choose to create figural bells, where the figure is perched on top of a typically-shaped bell to comprise the handle only.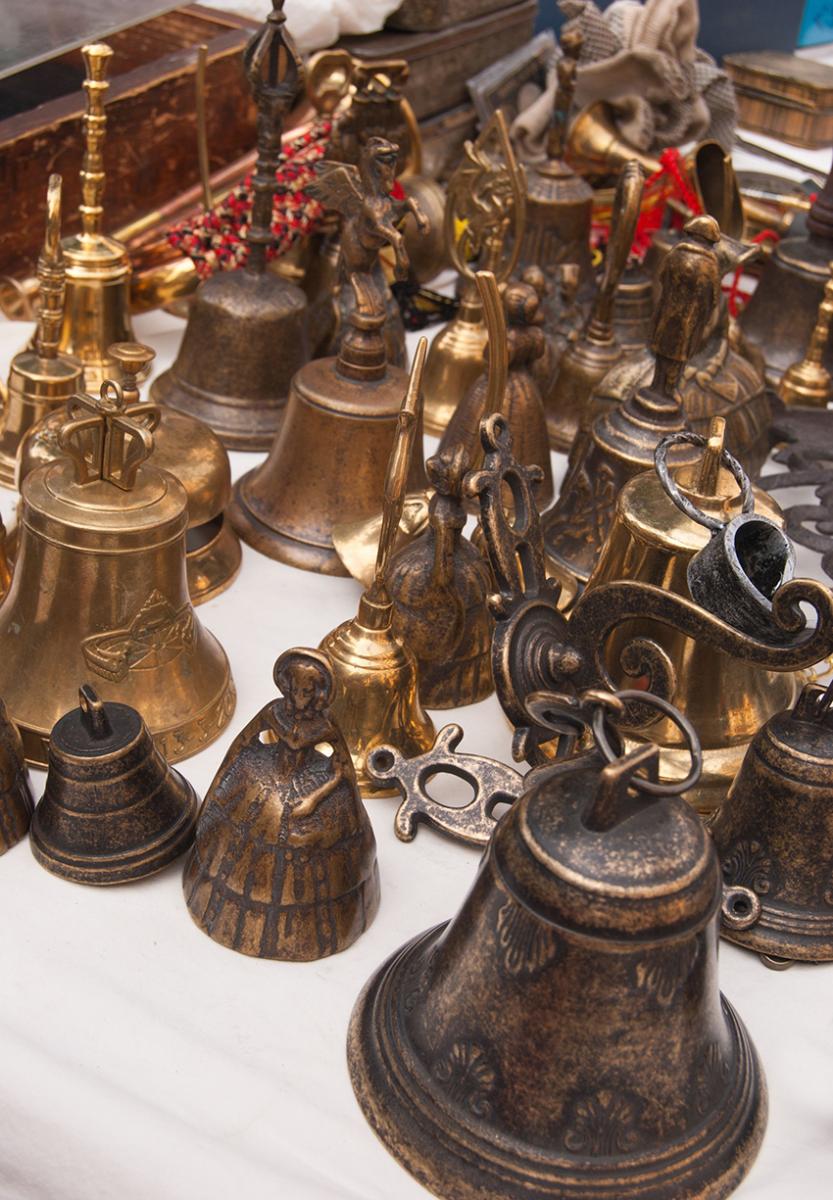 Image: Assorted brass handheld bells, including figurine and figural bells, on display at an open-air market.
If there is a material known to artists, chances are it's been fashioned into a bell. Handheld bells are most often made from brass, but bronze might be used for bells of larger size or precise tuning. Pewter bells can be cast with fine detail, while sterling silver and gold bells add a glimmer of elegance to a collection. The variety of materials is endless. Glass bells in all shades and colors, crystal bells with elaborate etchings, and wooden bells carved from rare woods on lathes are all to be found and prized by collectors. Clay bells can come glazed or unglazed, hand-painted or dyed. 
Handheld bells, in myriad shapes, sizes, designs, sounds, uses, and histories, are fascinating collectibles. Each handheld bell tells a unique story about who created it, where it came from, and how it was used. With such astounding variety, there's a bell (or two!) for everyone.