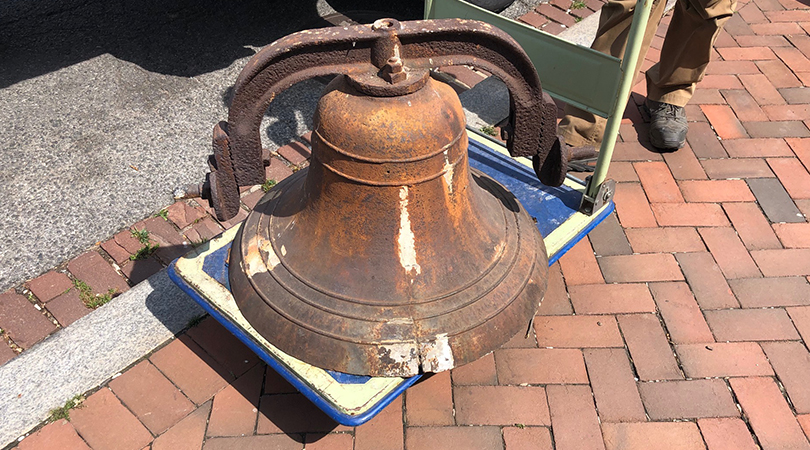 Bell Restoration
We help preserve architectural heritage by funding projects that refurbish and restore bells of historical, cultural, or community importance. 
Set them ringing again.
Across our nation, bells are falling silent as hardware ages, cracks emerge, buildings are converted, or resources diminish. Shuttered towers are muffling the heartbeat of our communities. BellFest raises crucial funding to restore bells and bell towers to their former thundering glory, preserving the history and authenticity of bells in Washington, D.C. and beyond. Will you raise bell with us? Donate to support our bell restoration projects. 
Why do bells need restoration?
A cast bell can ring for centuries. Because of this longevity, bells often outlive the structures and hardware that support them. Bells are also subject to daily stressors, including:
Wear and degradation of the metal at the striking point 
Original casting defects or poor metal quality
Unsuitable clapper size or weight 
Blocked or misaligned pulleys
Loose fittings and shifted supports from sustained vibration
Weakened, damp, and aged structures (bell towers) 
Corrosion from the elements, including bat and bird droppings 
Not only do these conditions present problems for bell acoustics, they may also render the bell inoperative or unsafe to ring. To prevent the debt of silence from a bell not ringing, we recommend regular inspection and maintenance of bells and bell ringing equipment. However, we understand not every bell has been looked after so vigilantly, particularly bells of significant age. That's when BellFest steps in to help.
Restoring a bell's sound – and a community's voice.
Together with our network of bell foundries, historic preservationists, architects, and contractors, we repair, refurbish, and restore bells cast of bronze or iron alloys. We oversee the complete bell restoration project with recognized professionalism and expertise to:
Safely remove the bell from the tower or site
Fully inspect the bell and determine the extent of damage or wear
Remove surface grime, signs of oxidation (rust), or toxic patina
Stabilize or repair fractures and cracks
Buff the bell to a beautiful luster and recoat fittings and hardware
Fabricate or replace missing and ineffective bell parts, like wheels, yokes, and clappers
Restore the bell to its original, clear resonance
Repair structural works and support timbers
Reinstall the bell in the tower or commemorative display 
Add electric swinging systems or mechanized tolling hammers 
Best of all, we do this at little to no cost to the bell owners. We believe the resonant toll of a bell is integral to the spirit of a community or neighborhood, so we partner with citizen organizations, business improvement districts, schools and universities, municipal buildings, religious institutions, firehouses, and more to keep bells ringing. If you have a bell, chime, or carillon in need of refurbishment or repair, we can help. Individuals and organizations representing a bell of significance are invited to apply for one of our bell restoration grants.
We are dedicated to authenticity and historic preservation.
Sentinels in bronze, bells toll a history of our nation: the jubilation of independence, the pain of civil war, the sacredness of community, and the resounding hope of tomorrow. We take the utmost care to protect this heritage by preserving heirloom bells, restoring their original sound, securing their installation, and setting them swinging again. BellFest can even help you plan a neighborhood rededication ceremony.
See how we're restoring the sound canopy. 
Our current bell restoration projects include: