Ways to engage the community through bells
Tourism bureaus, business improvement districts, municipal authorities, parks and recreation departments, religious buildings, neighborhood associations, and community groups all aim, as part of their mission, to create safe, inclusive, and engaging programming for their respective audiences.
To this end, bell towers are an underutilized asset. While people of all ages appreciate the delicate tintinnabulation of ringing bells on the hour, bells and bell towers may also appeal to lovers of architecture, history, music, photography, and a host of other interests. How you leverage your campanological infrastructure for the betterment of civic life is entirely up to you, but we certainly have some thoughts.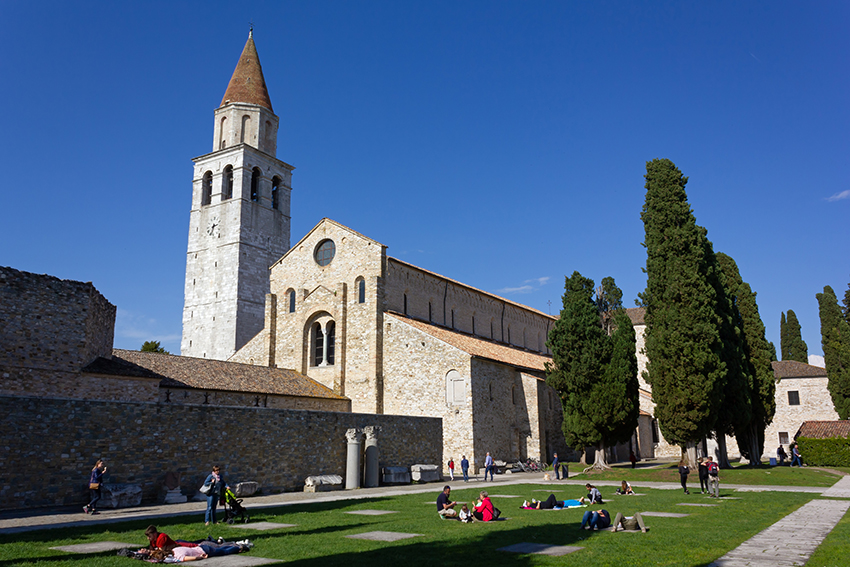 Image: People bask in the sunshine on the grounds of the Basilica di Santa Maria Assunta in Aquileia, Italy, as the bells ring out from the campanile.
Bells and bell towers may be called upon to connect with the broader community through any number of activations, leveraging the sounds, stories, and histories intrinsic to the bells and surrounding architecture. Ideas for community engagement include:
Tower climbs and open days, when the public is invited into the bell tower to see the bells up close or to enjoy the expansive skyline views from the belfry.
Events to meet the bell ringer(s), helping to humanize and spread awareness of the sometimes-esoteric art of bell ringing.
Events designed specifically to focus the mind and ear on bell ringing, like guided meditation, yoga, or forest walks within earshot of the bells.
Twin ringing occasions, when bells in a neighboring tower or even in a sister city on the other side of the world are rung simultaneously. 
Opportunities for the public to ring the bells themselves, or to touch artifacts like bell models, small bells, ropes, or broken and worn parts from a bell installation.
Displays about the bells, including interesting facts like their size, weight, age, or inscriptions.
Ringing during other notable neighborhood events, like charity runs, block parties, garden shows, and festivals.
Of course, ringing the bells regularly on a set schedule is the easiest way to showcase your bells to the widest audience. Open up green spaces for picnics, offer free water bottles in the summer or cups of cocoa in the winter, or provide a digital program about the performance to encourage the community to come out and hear the bells ring.
Section image: View from below of the Carillon in Berlin-Tiergarten, which hosts weekly concerts on 68 bells through the temperate months, special programming on holidays, tower climbs for panoramic skyline views, and dual-language tours.