The charm of a garden bell
Enjoyable all four seasons of the year, bells add both visual and aural advantages to the landscape. Spotted against a green background, bells capture the eye and focus the attention. Sounded in the stillness of nature, bells concentrate the mind and quiet one's thoughts. Bells are a charming, nostalgic, and sensory addition to home and professional gardens the world over.
Imagine creating a tranquil, healing space among scrambling vines and fluttering leaves, where the low toll of a bell slowly dissipates in the dappled light. A bell's reverberations bring security, awareness, and peace to outdoor meditation or yoga.
Bells can also lend a refined formality or a casual ease to gardens, depending on their installation. Set as a focal point at the termination of a linear path, a bell takes on the reverence of an antiquity. Covered under an arch or roof, the bell looks sacred. Suspended from an arbor or shepherd's hook, the bell adds a touch of whimsy and playfulness.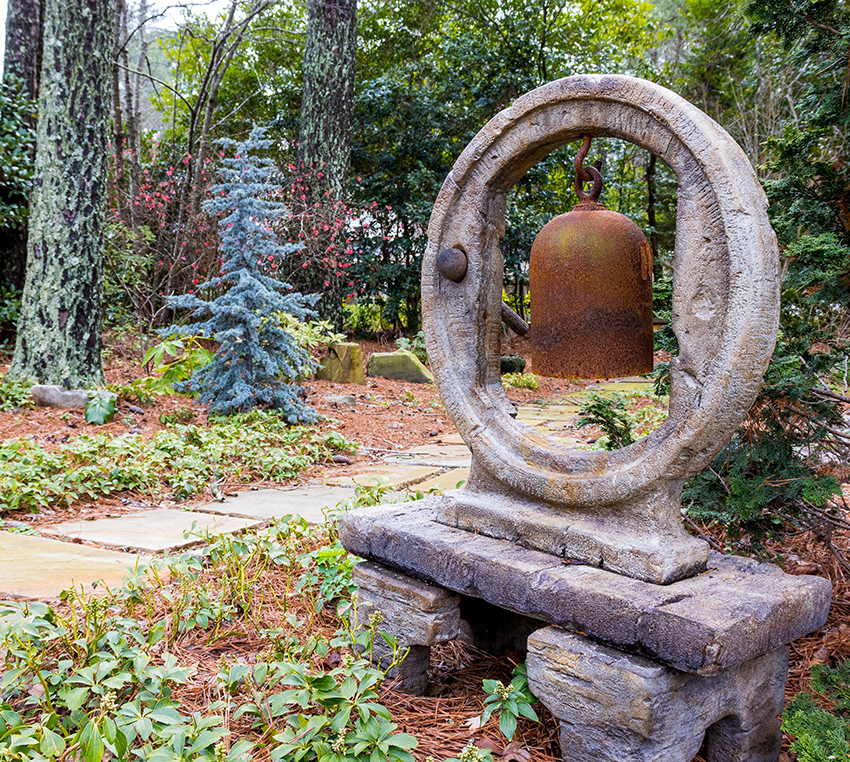 Image: A cast iron bell in russet tones hangs within a circular concrete mount alongside a stone path that cuts through a woodland garden.
Garden bells can also be the fulcrum of family traditions, like literally ringing in the New Year from your own backyard. They can be at the center of the main outdoor gathering space or tucked into a hidden alcove along a winding wooded trail. There is a bell perfect for all gardens, both large and small, both formal and casual.
Section image: Orange and black butterflies rest on a garden wall-mounted bell with verdigris patina.