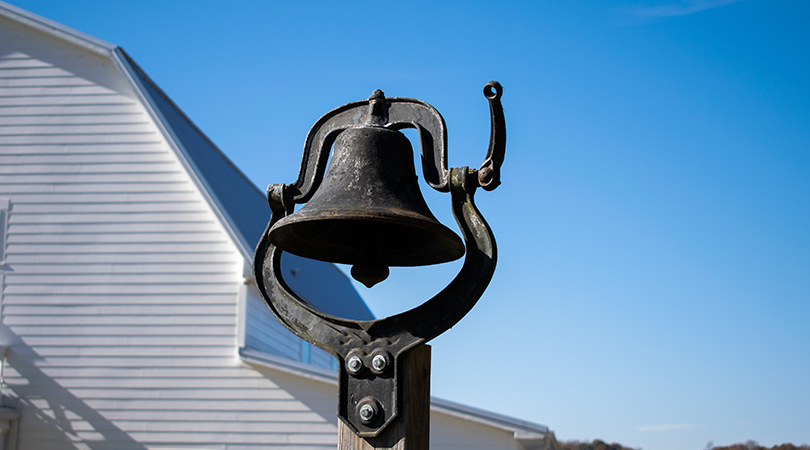 Farm Bells
Bells were essential fixtures of the American farm. Long before radios and mobile phones, it was difficult to summon the family to the main dwelling or call ranch hands back from across large, sprawling lands and fields. To help, farmers would often install a single bell to make such a clamor that it could be heard from many acres away. Whether suspended from the porch just outside the kitchen door or mounted on a post out back, the toll of a bell would signal lunch or quitting time – the two best times of the working day.
American farmers aren't the only ones to have employed the use of farm bells. Some of the earliest examples are barn-top bells from Scandinavia. But the silhouette of a weathered iron bell is part of the intense country nostalgia connected with American farms. One ad within an early Sears catalog proclaimed that "every farm, no matter how small, should have a good bell." Bells also served the vital role of alerting anyone within earshot to an emergency, like a barn fire.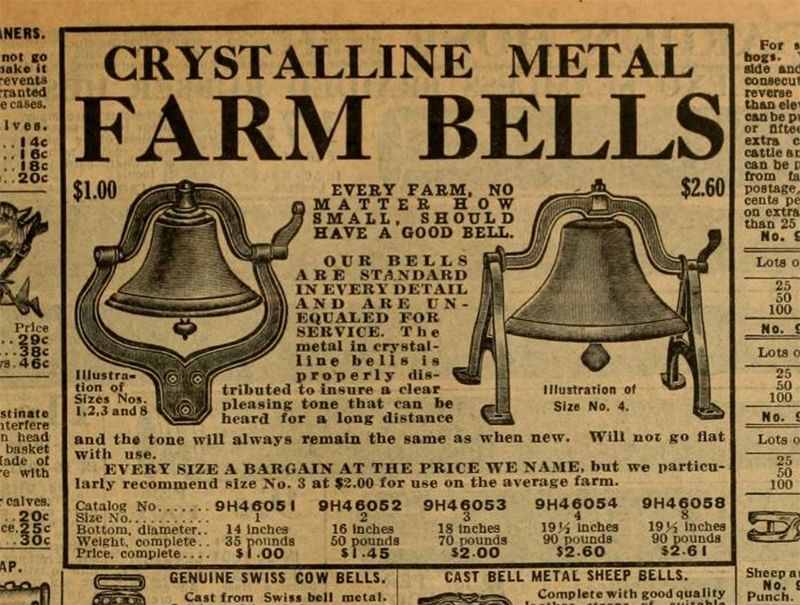 An ad for assorted metal bells in the Sears, Roebuck and Co. Spring 1912 (No.124) catalog lists farm bell options from 35 to 90 lbs. that cost just a couple dollars each.
How can you distinguish a post-mount farm bell from other bells, like a school bell or fire bell? The best rule of thumb is to gauge the size. An antique farm bell is typically between 10 and 20 inches in diameter and weighs between 25 and 100 lbs. This is smaller than other utilitarian bells. With considerably less noise on a pre-industrial farm, a bell didn't have to ring as loudly to be heard as within a busy city. A smaller bell also better suited a farmer's budget and could be delivered more easily to far-flung locations.
Farm bells are a treasured find for antique and salvage hunters. To check whether a bell might be original or replica, carefully examine how it's made. Newer bells are often cast in two parts and then welded together, so you'll likely see a seam down opposite sides of a replica farm bell. Newer bells will also have less obvious signs of wear around the mouth of the bell than originals. There are still companies who make proper farm bells in the traditional method, so even if you can't find a century-old farm bell, you can still bring a piece of country sensibility to your home.