Announcing the 2021 Official Festival Artist: Cris Clapp Logan
The National Bell Festival has tapped D.C.-based illustrator Cris Clapp Logan to serve as the official artist for the second annual festival on New Year's Day.
 
The original 2021 official artwork, unveiled on Facebook and Instagram, is a compilation of bells, bell towers, and iconic structures from the Washington skyline, including the Smithsonian Bell at the Smithsonian Institution Building; the Bell of Peace and Harmony at Meadowlark Botanical Gardens in Vienna, Virginia; the Robert A. Taft Memorial and Carillon in Washington, D.C.; the U.S. Capitol; and the Freedom Bell outside Union Station.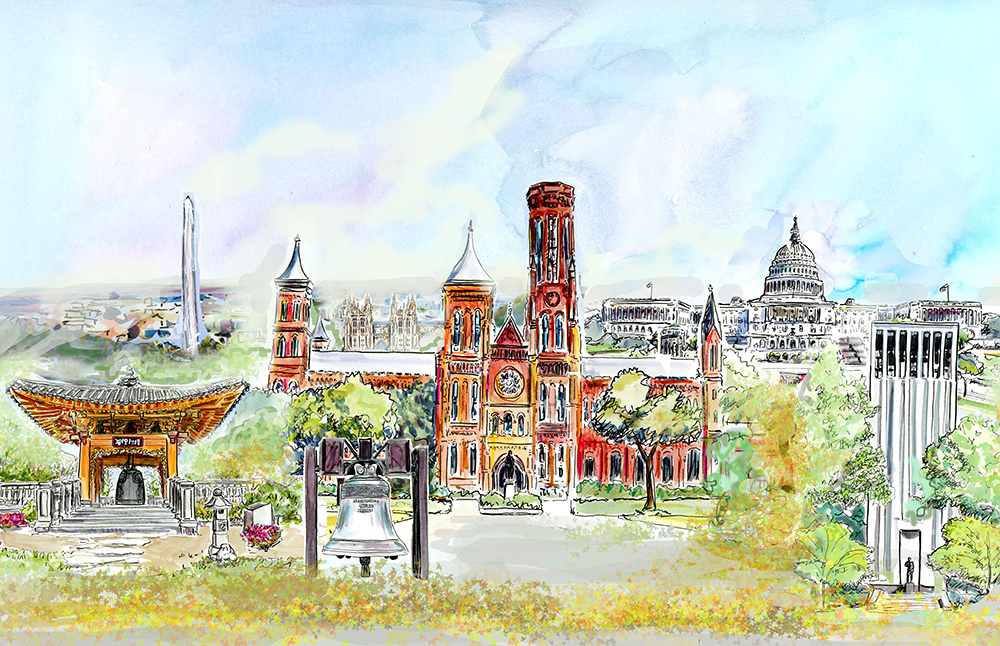 The official 2021 National Bell Festival artwork by Cris Clapp Logan, featuring iconic bells of Washington, D.C.
 
"There are so many beautiful bells suspended across Washington and the surrounding areas, each with a unique personality in tone, history, and architectural setting," said Cris. "I wanted to capture that spirit of blending sounds and bringing cultures together within my artwork for the festival."
 
Throughout her career, Cris has illustrated portraits, fashion, and current events, but the built environment has always fascinated her – and there is no shortage of breathtaking architectural achievements in the nation's capital. Within some of these spaces, bells as old as our country hang. You just have to know where to look or listen.
 
"Bells in Washington are not unlike fruit in an orchard," said Paul Ashe, director of the National Bell Festival. "Some are quite prominent and exposed, others are kept hidden and out of reach. Each contributes to the canopy of sound that defines neighborhoods and calls people together. Cris' art is a wonderful portrayal of that rich bellscape."
 
Part of the National Bell Festival's mission is to get bells that have fallen silent ringing again. As the official artist for the festival, Cris believes her art can help bring attention to the often-overlooked bells of Washington and inspire more interest in their history, community importance, and conservation.
 
The official artwork will grace the festival's program of events and experiences and will be prominently featured across many touchpoints.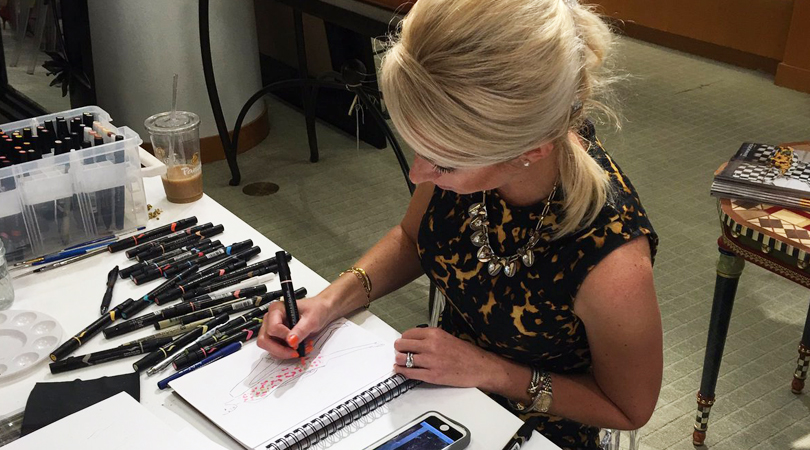 Illustration artist Cris Clapp Logan in her studio.
 
More ways to see Cris and her art
The National Bell Festival is infusing art into every facet of the festival and there are many ways you can engage with the Official Festival Artist to add a touch of creativity to your life!
 
Take a watercolors workshop with Cris Clapp Logan
Have you ever wanted to bring a blank canvas to life through vivid color and rich expression? Join online at 3:30pm Eastern on New Year's Day as Cris shares artistic tips and creates an original artwork from start to finish.
 
In this class, you'll follow along as Cris sketches her concept onto a blank canvas, solidifies the figures and scene, and adds layers of color and texture to make a truly one-of-a-kind piece of art. Take inspiration from her insights (and mistakes!) and create your own interpretation at home. Intimidated? Don't be! This class is perfect for beginning artists and masters, alike.
Color a bell or Washington landmark
Set aside some time for creative expression and peaceful meditation with a coloring sheet designed by Cris. Each original black ink illustration is ready for you to unleash your colorful imagination.
 
Perfect for every skill level, and with beautiful designs that draw inspiration from the bells and bell towers that ring out overhead on New Year's Day, the pages can be enlivened with pens, markers, crayons, or colored pencils. Remember to share your creations online by tagging #BellFest in your posts!
 
Bring home the original, full-size festival artwork
Love the official artwork? With a donation to the National Bell Festival, it can be yours! The original, full-size canvas will be auctioned to support historic bell restoration projects. Now you can hang a piece of authentic, signed Cris Clapp Logan art in your home or office – and celebrate the rich, vibrant bells that ring out over Washington.
 
Learn about Cris Clapp Logan, the 2021 Official Festival Artist
Cris Clapp Logan works with brands, stylists, bloggers, and other creative types to create unique illustrations and portraits for websites, events, and social media platforms. She has created brand-based illustrations for Christian Dior, Tod's, I. Gorman Jewelers, Bloomingdales, Illesteva, the Washingtonian, Capitol File, Washington Life and DC Modern Luxury Magazines, Sotheby's, Arena Stage, Aromachology, and The Fleisher Group, among many others.
 
Cris also enjoys creating bespoke on-site live illustrations, guest portraiture, "Mommy and Me" sketches, pet sketches, customized packaging, and event venue paintings. She is routinely asked to sketch at weddings, mitzvahs, launch parties, and corporate events. Like her style? Explore her illustration portfolio and follow her creative journey!
 
About the National Bell Festival
The National Bell Festival rings in the New Year with an annual celebration in Washington, D.C. As a canopy of sound erupts from bell towers overhead, a city-wide festival of free public performances and experiences in art, culture, and historical interest activities happens below. Nationwide bell ringing contributes to the cacophony, as communities from coast to coast join in the pealing. Throughout the year, BellFest also refurbishes historic bells that have fallen silent and restores them to their former thundering glory. Discover more at the National Bell Festival website.