A brief history of crotal bells
Whether a single bell jingling on its own or multiple crotals affixed en masse, the sound of a ringing crotal bell is recognized the world over, as it has been for millennia. Crotal bells in their present form have been ringing since the early Middle Ages, but archeologists trace the crotal to earlier teardrop-shaped artifacts from the late Bronze Age. It seems man has never tired of the gentle ringing of a crotal bell.
The earliest examples are thought to have been made for instrumentation – people coming together to make music. The use of crotal bells then expanded, becoming adornments to clothing (the book of Exodus tells us the robe of the high priest was adorned in bells) and later used as signaling tools on livestock. Crotals could be attached to the collars of cows, goats, and sheep to scare away predators and to aid in locating a stray. Crotals were also used in falconry, attaching to peregrine and gyrfalcon legs via a short leather leash.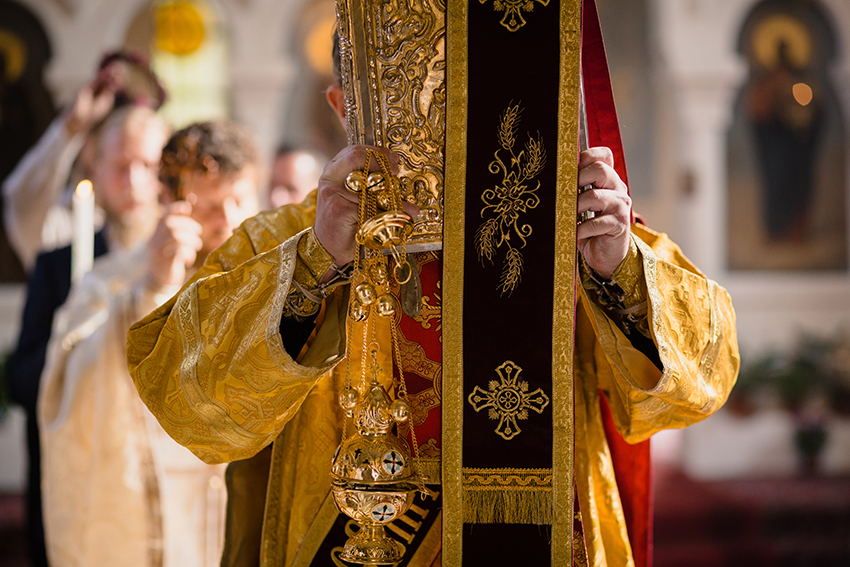 Image: An Orthodox priest carries a censer or incense burner decorated with gold-tone crotal bells for a wedding procession.
Jesters and acrobats were early adopters of crotal bells in their uniforms, but the bell's popularity as a fashion accessory become mainstream in the 14th and 15th centuries. Crotals were then brought to the New World on the ships of early European explorers and colonizers, who traded the dainty metallic objects for food, animal pelts, and other goods belonging to Native Americans and the indigenous peoples of the Caribbean. 
From children's crafts to holiday decorations, and from religious ceremonies to low-tech door bells, crotals remain entrenched in cultures around the globe.
Section image: A crotal bell is lashed onto the leg of a Harris's hawk as it perches on a falconer's glove.