Announcing the 2024 Official Festival Artist: Akiko Victorson
As the Year of the Dragon approaches, the National Bell Festival has tapped Japanese American shodō artist Akiko Victorson to serve as the 2024 Official Festival Artist for the fifth annual festival on New Year's Day.
Shodō is the ancient practice of Japanese calligraphy. Using a brush and jet black ink on traditional paper, this artistic style of writing dates back 1,400 years in Japan. A shodō artist moves with fluidity, precision, and confidence. There is no room for error or correction without having to start again. 
Akiko first studied shodō under a master calligrapher while in elementary school in Japan. Now based in the Pacific Northwest, she both teaches and presents calligraphy at cultural events across the United States. Her work blurs the lines between text and imagery. Each kanji character is imbued with meaning and Akiko combines the meaning into the shape of the character itself. 
In 2023, Akiko was awarded an honorable mention at the annual nengajo, or New Year's card, design contest organized by the Embassy of Japan. Her artistic range under the brand Soulful Sumi Calligraphy includes calligraphy scrolls with obi fabric, Bible verses, mottos, and expressive art calligraphy for gifts and home décor.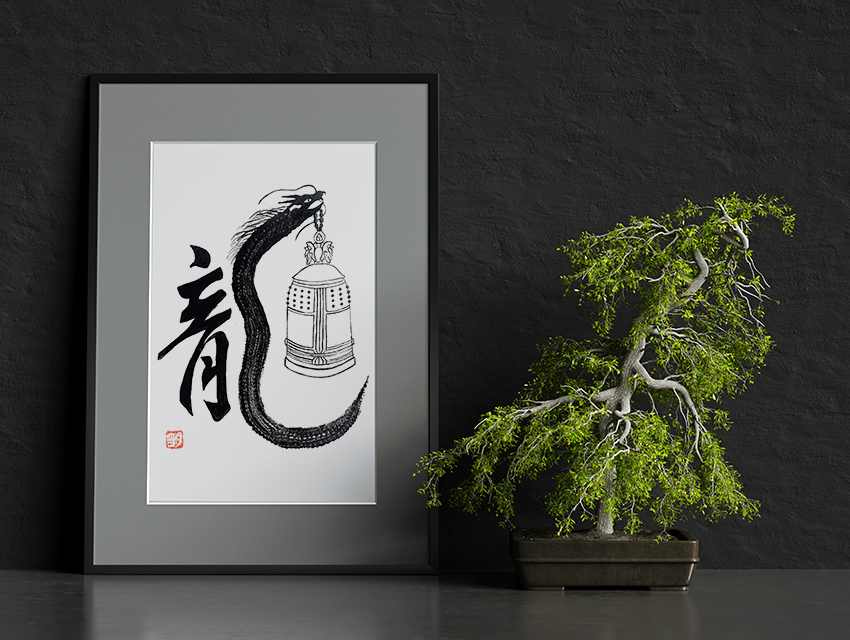 Image: Art for the 2024 National Bell Festival by Japanese American shodō artist Akiko Victorson.
Akiko's work for the 2024 National Bell Festival is an artistic representation of the word for dragon in semi-cursive style: 龍 expressed in kanji. The dragon and the bell form part of the word. The artwork is a fitting tribute to the festival: Japan is the 2024 spotlight nation, 2024 is the Year of the Dragon, and the National Bell Festival is installing a Japanese bonshō from 1798 in Washington, D.C.
Underneath the bell and dragon, which is a symbol of wisdom, power, and good fortune, a red stamp reflects the signature of the artist, 明子 in Japanese. Curving the first character of her name 明 in seal script style, the character can also mean 'bright' – invoking moonlight through the window on New Year's Eve.
Love Akiko's artwork? Love the mission of the National Bell Festival? A limited edition of prints will be made available to donors supporting the National Bell Festival's bell restoration and commissioning projects. 
Akiko's work follows in the steps of previous Official Festival Artists, including muralist Keyonna Jones (2023), photographer Daniel Horowitz (2022), and watercolorist Cris Clapp Logan (2021).
Cover image: Japanese American shodō artist Akiko Victorson demonstrates the art of Japanese calligraphy. Courtesy: Akiko Victorson.