Make it Ring
Join the community celebration and ring in the New Year with the National Bell Festival.
Let's ring in the New Year together! 
The National Bell Festival rings in the New Year with community events across the United States and across the world. Talk about some good vibrations!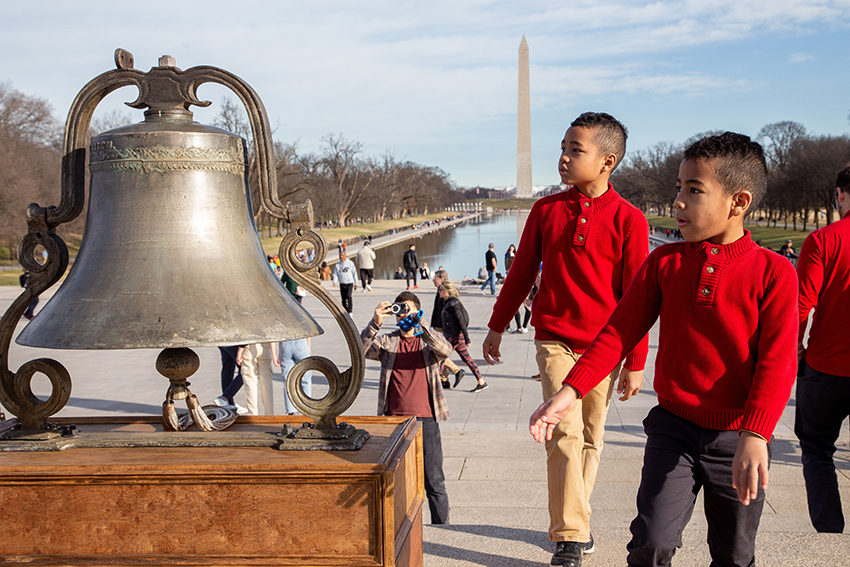 Image: Two boys walk past the 1863 Fulton bell installed on the steps of the Lincoln Memorial during the 2023 National Bell Festival on Jan. 1, 2023.
 
Ring around the World
It all starts at midnight local time on New Year's Eve, when bells toll the hour near the international date line with a stirring arrangement of "Auld Lang Syne" – the first in a series of free and open-to-everyone performances as clocks strike midnight in successive time zones across the continents. From Australia to Africa, and from Europe to the Americas, bells will ring in the New Year in a truly global bell ringing event.
 
Special Events & Experiences
The National Bell Festival also coordinates special bell ringing experiences on New Year's Day for all to enjoy. Expect thrilling concerts of bells resounding across the rooftops, one-of-a-kind bell installations, access to bells and bell towers like never before, and historical bells restored to their former thundering glory – all revealed during our festival.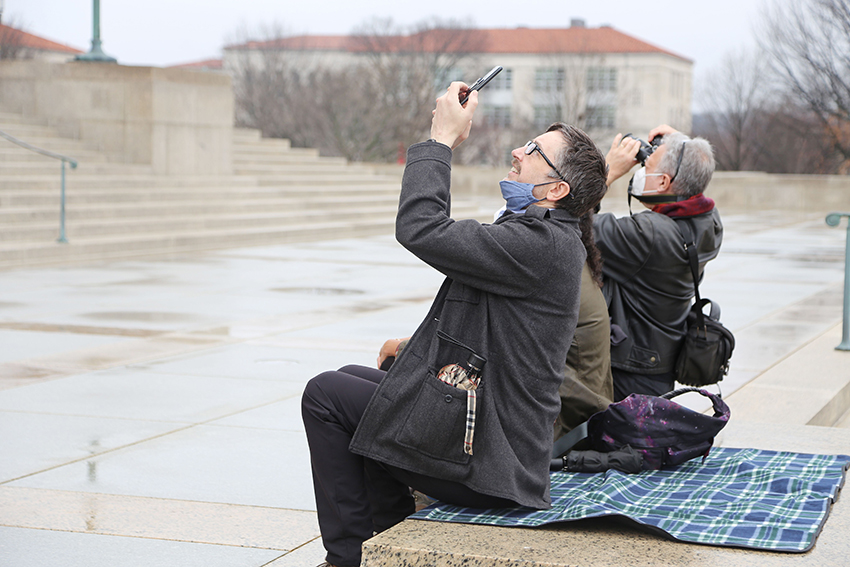 Image: Festivalgoers listen to a carillon recital at the Basilica of the National Shrine of the Immaculate Conception in Washington, D.C., during the 2022 National Bell Festival on Jan. 1, 2022.
 
Nationwide Ringing
Here in the United States, bells ring out together at 2:00pm Eastern on New Year's Day, creating a canopy of sound over our nation. Cathedrals and churches, community organizations and historical structures, national parks and memorials, and people from coast to coast are encouraged to gather and contribute to the nationwide ringing event.
Throw open a window to let the sound of thundering bells roll inside. Head outside for a leisurely walk around your neighborhood. Plan a cozy picnic (and pack a mug of cocoa!) underneath your nearest bell tower.
You can make it ring, too! Ask a bell tower in your neighborhood to join in the ringing or ring a handheld bell from your front porch. Bring your friends. Meet a neighbor! And take a moment to enjoy the rich, bellowing tolls that bring us all a little bit closer together.
 
Spotlight Nation
Each year, the National Bell Festival highlights the bell making and bell ringing heritage of a different nation around the globe. By shining a spotlight on the uniqueness of campanological traditions across cultures, we celebrate how bells and bell ringing unites all of humanity. Where will next year take us? We can't wait to find out!