Rededicating Wrecked or Decommissioned Ship's Bells
This is the story of when bells come home. For hundreds of years, bells have accompanied navies and merchant fleets across the world. A practical and symbolically-important instrument onboard the vessel, a ship's bell signals the time, indicates the position of the ship in heavy fog, honors lost sailors, and may even be used as a makeshift baptismal font.
"A ship's bell, foremost, establishes the rhythm of a ship," said Rear Admiral Warren Smith, Commander of the New York Naval Militia. "It is used for many purposes, but it is a reference point for life aboard ship."
Like the ships that carry them, not all bells survive the journey. Some sink beneath the waves as casualties of wartime aggression. Others might go down in a violent storm. Some ships sailing past their prime might be decommissioned and relegated to a scrapyard. 
The bell, however, is not like other parts of the rig. It serves a utilitarian function, sure, but it also embodies the spirit of the vessel and the sailors who traverse her decks. In the event of a shipwreck, when more vulnerable materials like wood are swept away or degrade into the ocean floor, the bell often provides the only positive means of identification.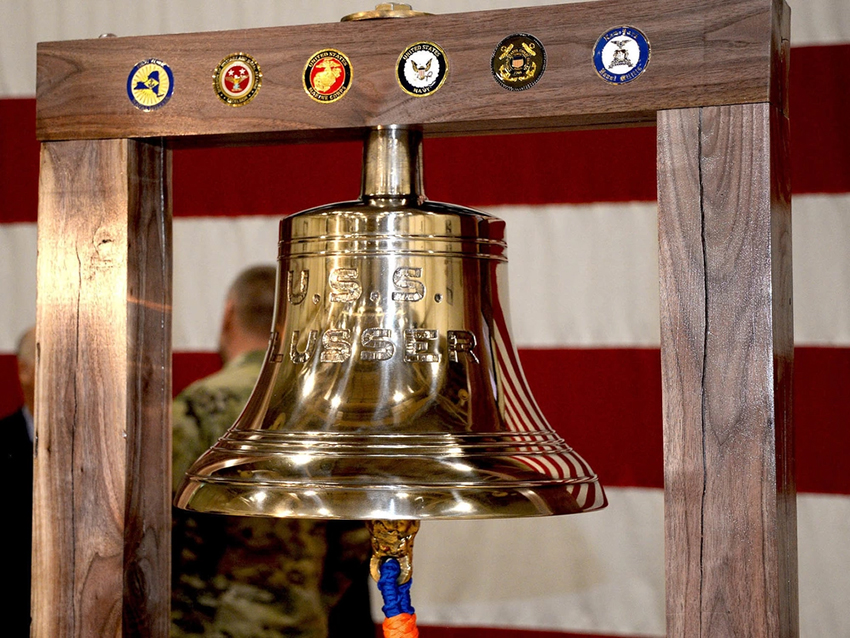 Image: The ship's bell of the USS Flusser, a destroyer which served in the U.S. Navy in the 1920s, was rededicated by the New York Naval Militia on Feb. 25, 2020, one hundred years after the ship was launched, for use as a ceremonial bell at the New York State Division of Military and Naval Affairs headquarters in Latham, N.Y. The ship was used to train Naval reservists, including members of the Naval Militia. Courtesy: William Albrecht, Division of Military and Naval Affairs, U.S. Navy.*
The ship's bell is the signifying artifact that tells the story of the vessel's adventures. It is because of this that a bell is given special meaning, even when no longer mounted amidships. Bells are cared for, cleaned, and preserved with utmost duty and respect. When a wrecked vessel is located on the ocean floor, the bell is one of the few pieces recovered and brought to shore again.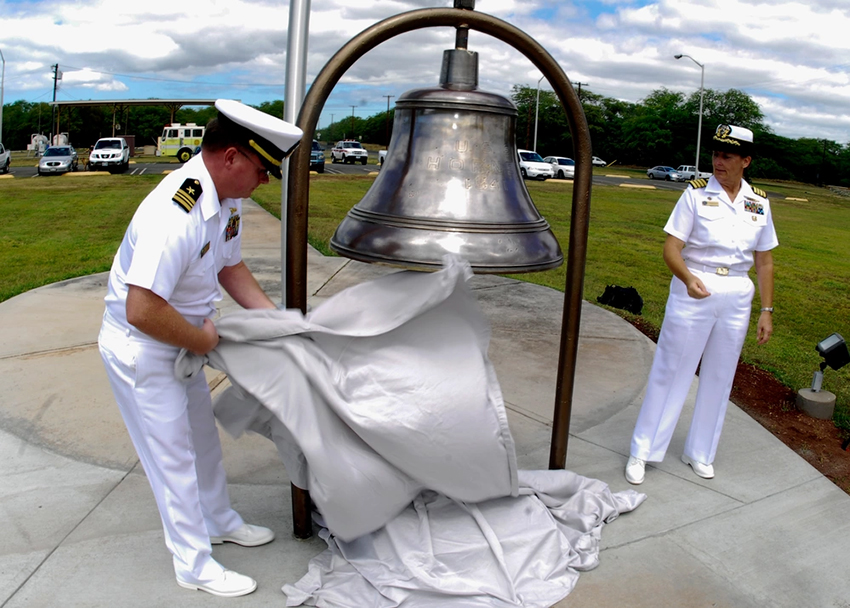 Image: Lt. Cmdr. Jay Gulley, officer-in-charge of U.S. Naval Ammunition Depot, Oahu, Hawaii, unveils a bell recovered from USS Hornet that was dedicated to the command for its 75th anniversary on May 1, 2009. The command at Pearl Harbor supplies ordnance to Naval forces in the Pacific. Courtesy: Petty Officer 2nd Class Eric Cutright, U.S. Navy.*
What, then, is to be done with legacy bells from past, decommissioned, or sunken ships? Most find their way to a historic preservation organization, like the U.S. Naval History and Heritage Command. The bells are then conserved, catalogued, and consigned to safe storage.
From there, bells might find new life in exhibits or installations at naval and civilian museums. Others might go on display at military academies or at training and recruitment centers. Some may be rededicated for use onboard a new vessel, bearing the spirit, pride, and bravery of the former. Ship's bells may be installed indoors or out, in public spaces or in secure facilities. Wherever it winds up, a rededicated ship's bell stands out as a reverberating connection to our shared naval history. 
Cover image: Retired Rear Adm. Peter Chabot and retired Capt. Robert Rawlings, former commanding officer of the nuclear-powered radar picket submarine USS Triton (SSN-586), unveil the original USS Triton ship's bell on the quarterdeck of the USS Triton recruit barracks at Recruit Training Command during a ship's bell dedication ceremony on May 17, 2012. The bell, which was previously lost for 43 years, has now found its home aboard its namesake at RTC. Courtesy: Mass Communication Specialist 1st Class Andre N. McIntyre, U.S. Navy.*
*The appearance of U.S. Department of Defense (DoD) visual information does not imply or constitute DoD endorsement.