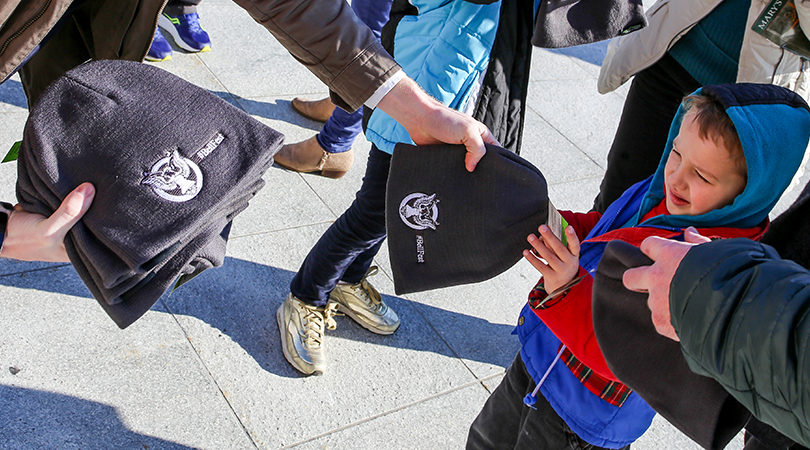 Giving Tuesday
The National Bell Festival is thrilled to participate in the global generosity movement known as Giving Tuesday. Always the first Tuesday after Thanksgiving, Giving Tuesday highlights nonprofit organizations that make meaningful, direct impacts in communities across the nation. As the National Bell Festival grows, Giving Tuesday has become an integral part of our continued development – funding our mission and driving historic preservation projects forward. And you can help!
 
Giving Tuesday at the National Bell Festival
Giving Tuesday unleashes the power of people to give, get involved, collaborate, and transform their communities and the world. Every act of generosity counts and everyone has something to give. The support we receive on Giving Tuesday helps us make it ring. Each and every dollar or volunteer minute helps us sustain our programming and restore our nation's bell heritage, including:
Presenting a complete roster of events and concerts on New Year's Day – all free and open to the public
Supporting local artists and small businesses while attracting people from across the world to our city
Restoring bells and bell towers that have fallen silent to their former thundering glory
Bell towers used to be gathering places where, when a bell would ring, people would assemble to discuss the news of the day. That's what we're bringing back: collected potential, shared experiences, and the spirit of community. Can we count on your support?
 
How you can give on Giving Tuesday
There are many ways to give on Giving Tuesday. Of course, many people think that donations must be monetary (and funding is certainly appreciated), but you can also give some of your time, share your expertise, or lend your voice in support. It can even be as easy as sharing a nonprofit's mission on your social media to help raise awareness.
Here at the National Bell Festival, you can donate online, become a Bell Raiser, volunteer at one of our free community events or concerts, ask bells and bell towers (and people!) in your area to join in our nationwide ringing, provide advice and professional expertise, host a listening party, and more! We are truly a community organization and we rely on the generosity of our neighbors to bring a touch of magic on New Year's Day and throughout the year.
 
It's up to you
The idea behind the global movement is to inspire giving – on Giving Tuesday, but also every day throughout the year. The more that people come together and support one another, the more we can move forward. This Giving Tuesday, we'd welcome your support. But we also encourage you to give in simple ways to the people around you, whether that's making someone smile, helping a neighbor, or opening a door for a stranger. We believe in the power of community. That's what makes us ring.