Traditional Russian Bell Ringing Adds New Resonance to BellFest
This year, a new sound was heard at the National Bell Festival: Russian Orthodox bell ringing. Distinctive in style, tone, and mechanics, the traditional bell ringing techniques brought an exciting new dimension to our nationwide ringing with performances in Russian Orthodox churches across California, Washington, and Pennsylvania.
In the Bay Area, San Francisco Symphony percussionist and bell ringer Victor Avdienko surmounted the zvonnitsa, or belfry, at the Holy Trinity Orthodox Cathedral (the oldest Orthodox Christian parish in the contiguous United States) for a 20-minute demonstration on the art and sound of Russian Orthodox bell ringing. Mr. Avdienko also rings for Blagovest Bells, purveyors of bells from Russian foundries including Pyatkov & Co. and Vera, who was instrumental in bringing this type of bell ringing to BellFest.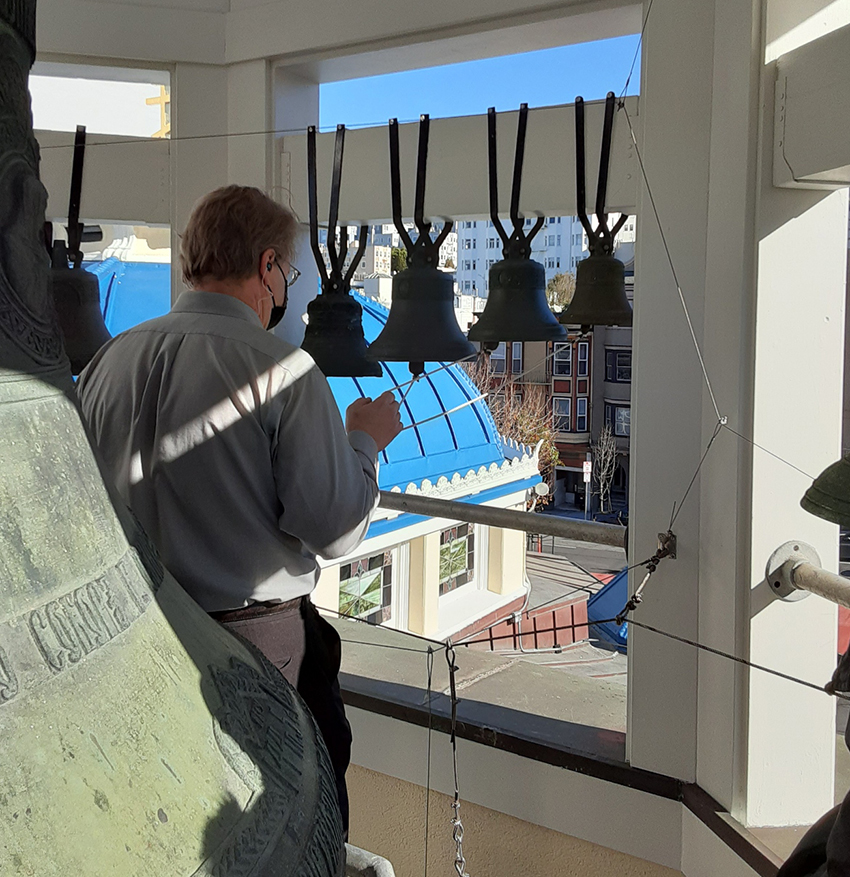 Image: Bell ringer Victor Avdienko rings in the New Year with the National Bell Festival at Holy Trinity Orthodox Cathedral in San Francisco, California.
 
What makes Russian Orthodox bell ringing unique?
Bells are an integral aspect of the Russian Orthodox tradition and are considered a spiritual addition to the liturgy. Because they represent scripture in sound, Russian Orthodox bells are often referred to as "singing icons." Traditionally, Russian bells call people to worship, denote the service being celebrated, sound an alarm, or signal an important announcement.
In the Russian bell ringing system, bells are mounted stationary and not swung. An interconnected series of ropes attach with some tension to clappers within each bell. Using hands and feet, ropes can be pressed with varying levels of intensity to control the connection of clapper to the side of a bell – commanding not only the rhythmic pattern, but also the volume of sound produced. 
Video: San Francisco Symphony percussionist Victor Avdienko sounds a set of traditional Russian bells at Holy Trinity Orthodox Cathedral in San Francisco, California, during the 2022 National Bell Festival.
The zvonar, or bell ringer, does not play a melody as a Western-style carillonneur may do. Instead, a complicated polyrhythmical sequence of sounds is produced that blends intriguing harmonies across the multi-toned bells. The distinctive bell metal used in casting, along with the individual profile of Russian bells, enables a scale of sounds from a single bell. Most Western bells, by contrast, are tuned to a defined strike tone.
At the National Bell Festival, we celebrate all bells and styles of bell ringing, and couldn't be more thrilled to welcome the beautiful sounds of Russian Orthodox bell ringing as we ring in the New Year!
Cover image: A Russian Orthodox monk rings bells in the traditional style outside the Dormition Cathedral in Yaroslavl, Russia.