These Are the Women Who Make It Ring
We had some very special help this New Year's Day during our bicentennial tribute to Harriet Tubman at the Military Women's Memorial at Arlington National Cemetery. We were joined by seven incredible women Veterans representing the U.S. Army, Navy, Air Force, Coast Guard, and Marines. Each impeccably credentialed, together they represent decades of selfless service and sacrifice to our nation. We were humbled by their warm and generous participation in our program.
Why were we coming together at the Memorial? This year marks 200 years since 1822 and the birth of Harriet Tubman – an American hero whose life and legacy is just as impactful and inspirational two centuries on. In her life, Ms. Tubman was a fulcrum upon which the trajectory of the United States was shifted. She worked tirelessly to bring people to freedom, to champion equality, and to demand dignity from those in power. 
Having inspired so many people across the years, especially women and women of color, and having served with the U.S. military during the Civil War, we thought it fitting that women Veterans should lead the commemorative tolling for Ms. Tubman.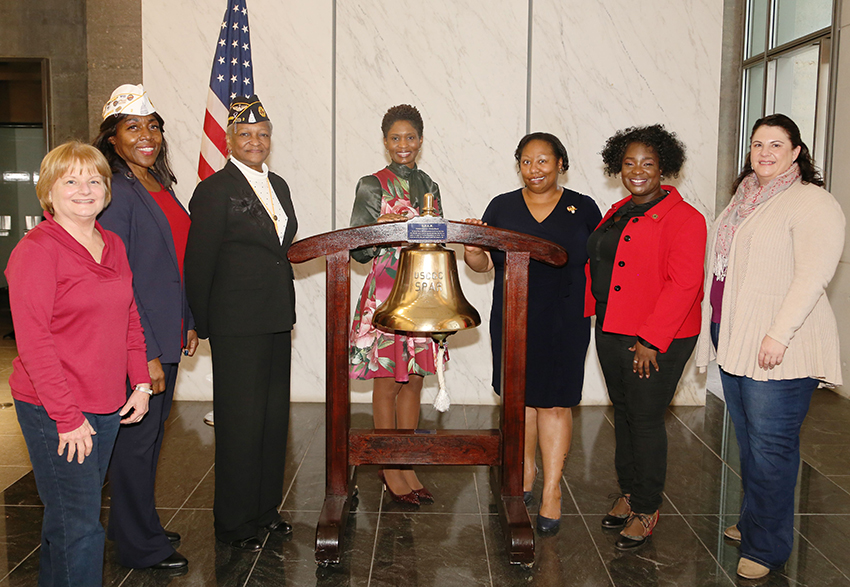 Image: Women Veterans from the U.S. Army, Navy, Air Force, Coast Guard, and Marines who tolled in honor of Harriet Tubman at the 2022 National Bell Festival.
The first ring was sounded by Ms. Ernestine Wyatt, a descendant of Ms. Tubman's family. The remaining 199 tolls were rung in a solemn and dignified progression by:
U.S. Army Veteran Carla Moss
U.S. Marine Corps Veteran Tweila-Rochelle Cauthen
Retired U.S. Navy Commander Jan Fitzsimmons
U.S. Air Force Veteran Doranetta Porter
Retired U.S. Coast Guard Veteran Tammy Barlet
Retired U.S. Army Staff Sergeant Stephanie Mitchell
Retired U.S. Army Master Sergeant Lachrisha Parker
Our sincere gratitude goes out to these women for their continued service to the nation and for leaping into action to help us pay our respects to the indefatigable Harriet Tubman on New Year's Day. May her spirit of service, courage, and compassion carry us into the next 200 years.