Ringing in the Rain
It's been a wet few days in the Washington, D.C. metro area, but a little rain doesn't stop our intrepid Bell Raisers. We ventured out to the lusciously landscaped Meadowlark Botanical Gardens to see a bell whose prominence, scale, symbolism, and craftsmanship announce it as a bell of distinction.
Tucked within the rolling hills and rich tapestry of foliage and flower at Meadowlark is the first Korean bell pavilion on the East Coast and the first Korean bell garden of its kind in the Western Hemisphere. Naturally, we had to take a look. The bell was commissioned to celebrate the deep cultural ties between two great nations, while revering nature and magnifying its qualitative effects on the human condition. It doesn't disappoint – and how could it? The bell is called by an appropriately magnificent name: The Bell of Peace and Harmony.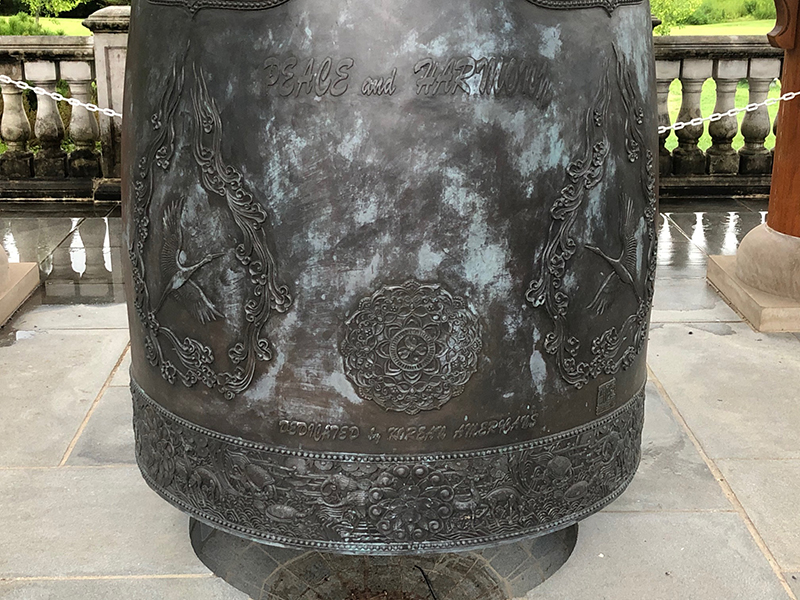 Detail of the fine craftsmanship and symbolic design of the Bell of Peace and Harmony at Meadowlark Botanical Gardens.
Wrapped in symbolism, the bell is emblazoned in bronze iconography with special meaning to both the Korean and American people. Rose of Sharon (the national flower of Korea) and the dogwood and cardinal (Virginia's state flower and bird) are prominent in its design, along with ten traditional symbols of longevity: sun, mountain, water, cloud, stone, pine tree, white crane, turtle, reishi mushroom, and deer. A single strike from a dedicated log tolls the 6,000-lb. bell and starts a reverberation that can last up to three minutes. Magnificent, indeed.
Learn more about the Korean bell garden and see the bell up close with a trip to Meadowlark. But why go alone? Join the Bell Raisers for behind-the-scenes access to some of Washington's most impressive bells and historical sites.