Restoring the Carillon Beach Institute Bell Tower
The Carillon Beach Institute is a non-profit organization founded to enrich the lives of the citizens of Carillon Beach, Florida, and to positively impact the surrounding panhandle and Gulf Coast communities. The Institute blends architecture and urbanism with the humanities to act as a catalyst for culture. Through concerts, lectures, symposia, events, and conferences, the Institute supports philanthropic initiatives in the areas of wellness, art, the environment, and children. 
The Institute also manages a carillon, one of only a handful in the State of Florida, consisting of 35 cast bells. The Carillon Bell Tower represents the heart of the surrounding community and all roads lead to Carillon Circle, the road circumnavigating the bell tower. On the hour throughout the day, an automatic and dutiful chime heralds the time and ushers in a brief melody or tune. Surrounding the bell tower and nearby Lake Carillon, local flora and fauna abound. The area is an important stopping-off point for migrating birds.
The bell tower, weathered as it is by salt spray, ocean storms, and baking sun, needs a complete restoration. Years of exposure is beginning to show through oxidation creeping up the framework, stucco pealing from the structure, and leaks breaching the doorways and flashings.

Image: Evidence of structural damage and needed repair work at the Carillon Beach Institute Bell Tower. Courtesy: Carillon Beach Institute.
Critical to the continued operation of the Carillon Bell Tower is an overhaul of the exterior to include refinished stucco work and proper installation of new outswing doors (after safe removal of the old). Concurrent with the finishing work, the Institute plans for the installation of a Verdin bell ringing system. This will enable continued automatic ringing, as well as live play with a 5-octave detachable keyboard. The keyboard will allow for the recording of custom music selections and can also be used as a practice instrument for carillonneurs.
To make this happen, the Carillon Beach Institute needs your help.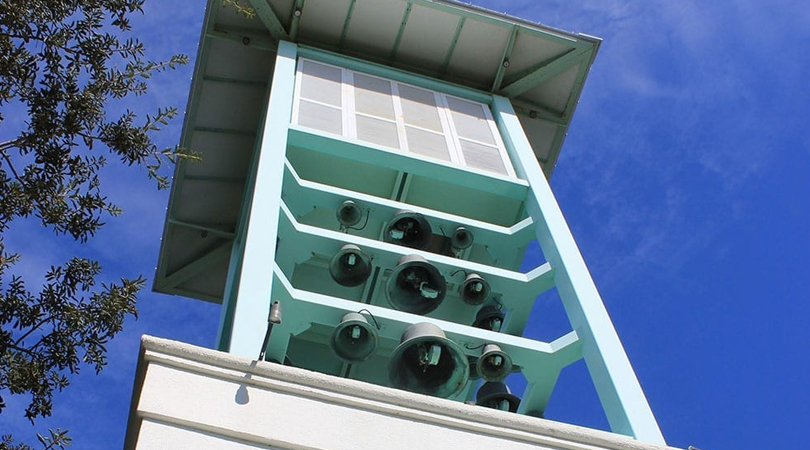 Image: Bells hang against a blue sky within the Carillon Beach Institute Bell Tower. Courtesy: Carillon Beach Institute.
 
How to help make it ring in Carillon Beach
Want to help the Carillon Beach Institute refurbish their community bell tower? Directly support the tower restoration and ringing system installation by visiting the organization's GoFundMe campaign.
The Carillon Beach Institute is a registered 501(c)3 non-profit organization, exclusively funded through grants, donations, and fees from foundations, friends, and citizens of Carillon Beach.
The National Bell Festival and the Carillon Beach Institute have strategically aligned to focus attention on the restoration of the Carillon Bell Tower. No formal affiliation or partnership is implied. The National Bell Festival is not responsible for nor has control over content found outside of Bells.org.