Rescheduled: Unveiling the Tibetan 'Truth Will Prevail' Bell
It seems no one is untouched by the still-lingering effects of global supply chain disruptions and the viral pandemic. Campanologists, alas, are no exception. Production challenges beyond our control have compelled us to push back the unveiling of our much-anticipated 'Truth Will Prevail' bell – our gift to the Office of Tibet, who represents His Holiness the 14th Dalai Lama and the Central Tibetan Administration to North America.
The bronze bell, based on traditional temple bell profiles from the Tibetan imperial period and cast as an extension of the friendship between Tibet and D.C., was to ring for the first time during our upcoming National Bell Festival on New Year's Day. Instead, plans are underway to finish production in early 2023. An unveiling ceremony and first ring at the Office of Tibet will be announced at a later date.
 
Learn about bells from Tibet
Tibet lies within a region called the Tibetan Plateau, one of the highest inhabited places on earth. Covering some 965,000 square miles, the plateau is the world's largest and is ringed by mountains, including Mt. Everest at 29,000 feet. Now an Autonomous Region within China, Tibet has a long history as an independent kingdom and religious state.
As Buddhism spread across Asia, rituals and regalia followed – and with it, bells. Large bronze bells would have been cast to adorn the myriad monasteries and temples built across the continent, used to signal the time or call the monks to prayer. However, only a small handful of these bells remain from Tibet's imperial period (ca. 600–850 CE). From these few examples, we see inscriptions of Tibetan emperors, writings in the Old Tibetan language, and a distinctive style unique to the Tibetan Plateau.
While flat-based bells predominate Asia, Tibetan bells of this period are almost all scalloped with six undulations, sometimes referred to as lotus petals. Casting these bells was a considerable undertaking, though it is unknown whether the bells were cast elsewhere and imported into Tibet (under the direction of someone who knew the Tibetan script), or were cast onsite by itinerant bell makers from China.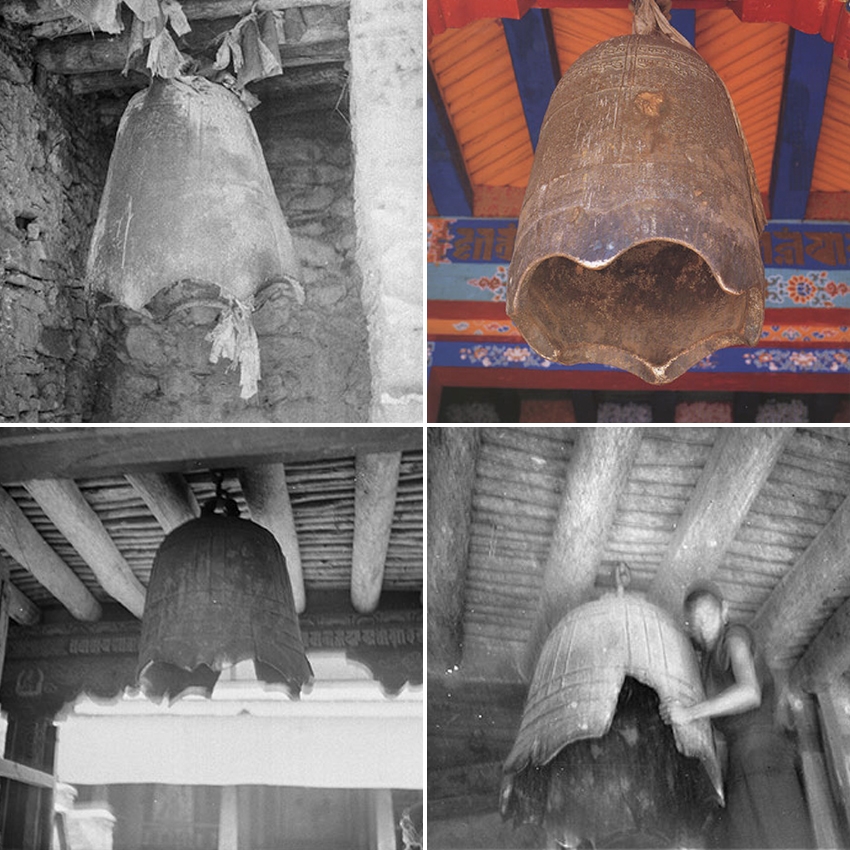 Composite image: In black and white, ancient bells at various temples photographed by Hugh E. Richardson during early- to mid-20th century travels through Tibet. Courtesy: The Pitt Rivers Museum. In color, the great bell at the Samye monastery in the Chimpu valley. Courtesy: Morning Glory Publishers.
The bell would be hung near the monastery's central place of devotion. Tibetan bells, from the few extant examples, were hung much higher aloft than those in China, Japan, or Korea. The deep, resonant tones could be heard across long distances in the thin Tibetan air.
The 'Truth Will Prevail' bell pays tribute to this rich heritage, recalling not only the characteristic design of ancient Tibetan bells, but also the meaning behind bells of this period: calling people together in a spirit of brotherhood, a search for truth, and a respect for all.
Cover image: Tibetan monks depart a Buddhist monastery after prayer in Lhasa, Tibet, on April 29, 2012. A bell hangs above the temple entrance.