New Bell Installation Resounds on the National Mall
This summer, perambulators along the National Mall will be treated to a veritable delight of artistic installations. On view from August 18 to September 18, the exhibition Beyond Granite, curated by the Trust for the National Mall, presents a new series of works designed to create a more inclusive, equitable, and representative commemorative landscape. The six featured contemporary artists are each responding to a central question: What stories remain untold on the National Mall?
We are naturally inclined to the submission of Paul Ramírez Jonas entitled Let Freedom Ring (2023). At the Smithsonian Metro near 12th Street NW, Ramírez Jonas has erected an arching steel structure wherein 32 bronze bells cascade down from the central meeting point. Each bell is tuned to one note in the familiar Americana melody, "My Country 'Tis of Thee." An additional participant-activated bell on the ground beneath the structure completes the assemblage.
"My Country 'Tis of Thee" was performed by Marian Anderson on Easter Sunday in 1939 and quoted and rephrased by Dr. Martin Luther King in his "I Have a Dream" speech in 1963 – both iconic moments in the National Mall's fascinating history. 
In Ramírez Jonas installation, the song is played in its entirety except for the final note. Passersby are invited to play the final note on a 600-pound bell and to proclaim for what or whom they ring this bell of freedom. "The only person who can finish the melody is you," Ramírez Jonas said. "The song, like the promise of our country, remains incomplete without participation."
As an artist, Ramírez Jonas focuses on ways to inspire civic participation and exchange. He was joined in this installation by Nico Rodriguez Melo as project manager. B.A. Sunderlin Bellfoundry cast the set of 33 total bells.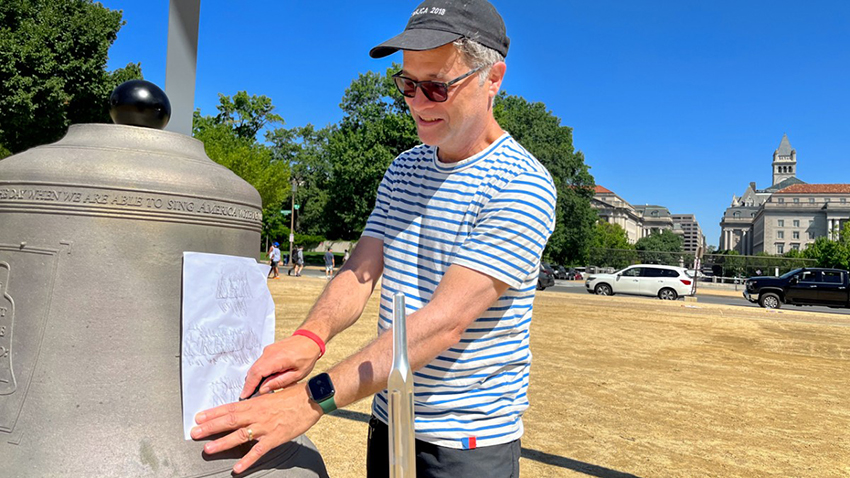 Image: Paul Ramírez Jonas completes a graphite rubbing on a bell from his installation Let Freedom Ring, an interactive bell tower designed for the "Beyond Granite: Pulling Together" exhibition on the National Mall in Washington, D.C., in August 2023. Courtesy: Paul Ramírez Jonas.
 
Meet the artist: Paul Ramírez Jonas
Paul Ramírez Jonas, based in Ithaca, New York, is an artist and educator with particular focus on interdisciplinary and socially engaged art, print media, public art, and sculpture. He has had solo exhibitions at the Contemporary Arts Museum Houston, Museo Jumex, the New Museum, and other venues. His civic projects Key to the City and Public Trust are standard bearers in the field of public art. He is a professor and Art Department chair in Cornell University's College of Architecture, Art, and Planning.
Cover image: A woman sounds the final note of "My Country 'Tis of Thee" by ringing a bell at the base of Paul Ramírez Jonas' Let Freedom Ring (2023) installation on the National Mall in August 2023. Courtesy: Steve Weinik, Trust for the National Mall.