Look Out Below
At the National Bell Festival, we spend a lot of our time looking up – tilting our heads skyward for a glimpse of swinging bells or surveying Washington from the tops of bell towers. But this last Sunday, we decided to look down. Six feet down, in fact. 
Our intrepid Bell Raisers gathered at the corner of 30th and R Streets Northwest, the entrance to famed Oak Hill Cemetery. Nestled in historic Georgetown, Oak Hill Cemetery is the final resting place for nearly twenty-thousand inhabitants, many of whom made notable, lasting contributions to the arts, politics, government, law, the military, and business. 
What do we know about the dead? Not much. So we tapped our friends at Free Tours by Foot to organize a guided tour of the fascinating cenotaphs, sculptures, monuments, and inscriptions that dot the manicured hillsides abutting Rock Creek. It was a perfect day, one of those blessed few summer days in Washington with relatively low humidity. Respecting the Mayor's guidelines for the phased reopening of Washington, we donned our masks and kept walking groups limited in size.
The tour for Bell Raisers began at the Italianate-style Gatehouse, built around 1850, which serves as the residence of the superintendent of the cemetery. The Gatehouse boasts a private bell tower that sounds on the hour when the cemetery is open for visitors and at special times, like funerals – or when Bell Raisers arrive!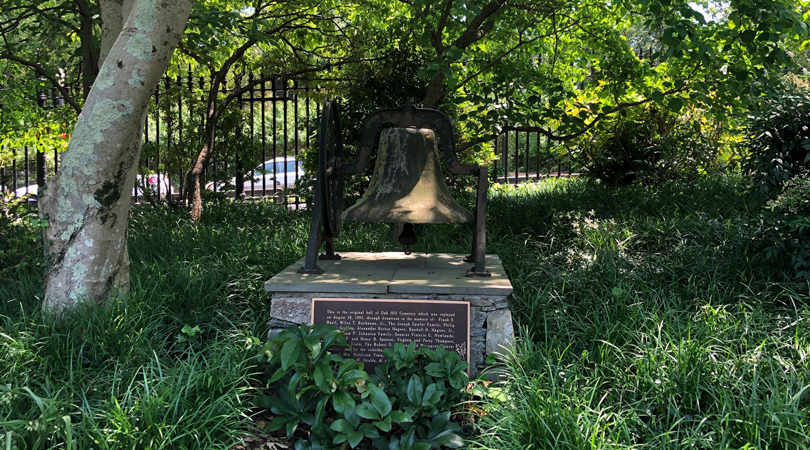 The original bell at Oak Hill Cemetery, on display within the cemetery grounds. This bell was removed from the tower on August 19, 1993, to make way for a bell of purer sound and resonance.
Just to the right of the main entrance, before one reaches the old Gothic-style Renwick Chapel, rests the cemetery's original bell in pride of place. It stands directly opposite a few of the cemetery's most notable residents. From there, our tour wound its way across cobbled stones and final resting places. Around each corner was another resident whose memory is kept alive by carved marble and the intriguing story of their life.
Our tour was both beautiful and humbling, and one we won't soon forget. With gratitude to the hospitable folks at Oak Hill Cemetery, we can't wait to return!