Georgetown, We Have a Rendering
There comes a time in every bell restoration project where we get to see a glimpse into the future. That time has come. As we continue our work to refurbish the historic bell at Georgetown Lutheran Church (located at the corner of Volta Pl. and Wisconsin Ave. NW in Washington, D.C.), our restoration partners at Sunderlin Bellfoundry have created a rendering of the final installation.
After being cleaned of oxidation and rust, the old bell (how old, you ask?) will sit atop a custom-built pedestal of wood matching the existing altar pieces of the church. Hidden beneath will be four lockable casters for ease of movement – after all, you never know when you might need to roll in a bell to ring! To prevent continued stress on the bell (it has an existing crack and gnarly fissure running up one side), the bell will hang dead (non-swinging) and be rung by the tap of a purpose-cast hammer.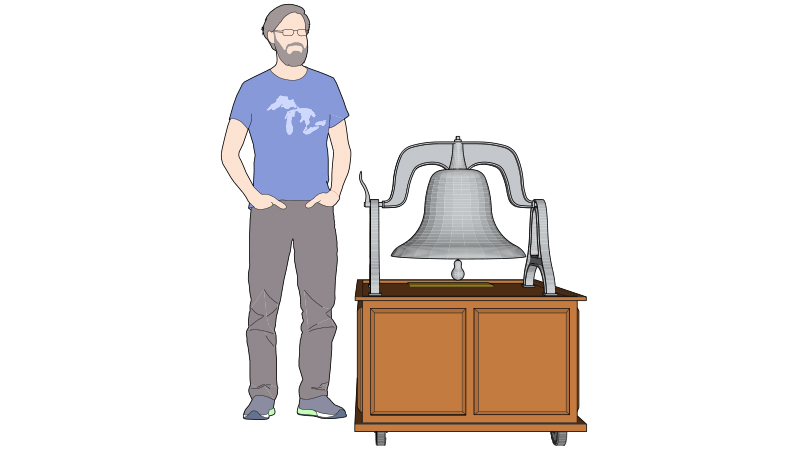 Rendering of the bell installation at Georgetown Lutheran Church with male figure for scale.
As we learned on our peek into the imposing stone tower, this bell never called that tower home. This is another reason why the ground-level installation is a more appropriate future setting for the bell. Bells are typically far out of reach and might only be noticed through sound. At Georgetown Lutheran, congregants will be able to get up close and personal with this piece of their church's history. A bronze plaque, mounted on the front of the pedestal, will provide a brief history of this bell.
We couldn't be more excited to bring this bell back to life for the Georgetown community. Stay tuned for continued restoration updates and a tolling of the bell for the first time in decades!
Georgetown Lutheran Church

This article is part of a curated series on our work to restore the bell at Georgetown Lutheran Church in Washington, D.C. Continue exploring:

The National Bell Festival would like to thank B.A. Sunderlin Bellfoundry for their exceptional work in preserving this bell of historic importance.