Bonshō, Removed from Japan in 1945, Rededicated at Jodo-ji Temple
During World War II, an ordinance to collect metals was decreed throughout Japan. To feed its war machine and keep its armies outfitted, Japan needed vast quantities of industrial materials – and like plucking fruit from a tree, they turned to peaceable, defenseless bell towers. An estimated 70,000 bells (approximately 90% of the bonshō then in existence) were destroyed and smelted into armament.
One such bell was plucked from the Jodo-ji Temple in July 1945 and then taken to the Yokosuka Naval Arsenal, one of four principal naval shipyards owned and operated by the Imperial Japanese Navy. Were it not for the war ending just over a month later, the bell would certainly have been lost.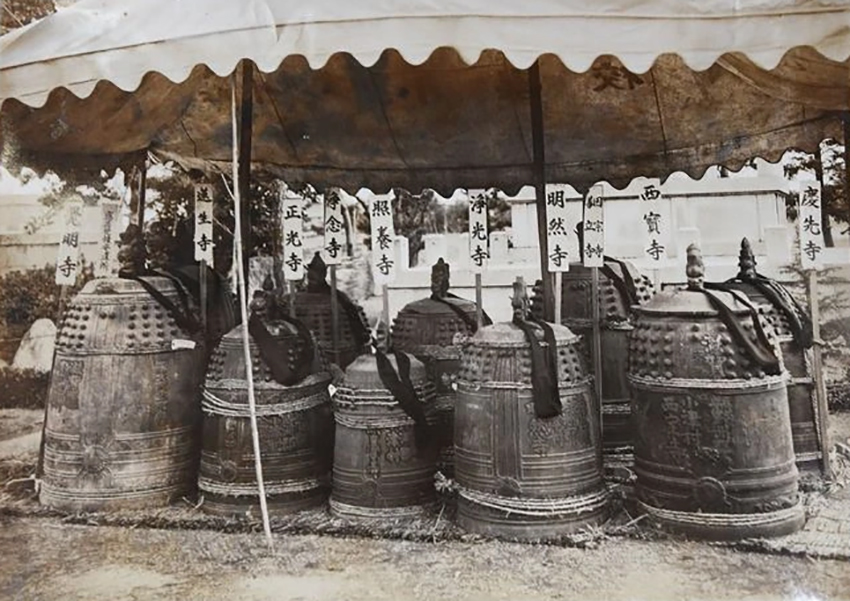 Image: Bells surrendered to the armed forces of Imperial Japan are collected at a school in Shiga Prefecture and await transfer for smelting, 1942. Courtesy: Kakumeiji Temple, Moriyama.
As it happened, the war did end, and American forces took over administration of the shipyard. Five bells were commandeered and distributed to various U.S. Navy cruisers named after cities in the United States. The bell from Jodo-ji Temple was passed on to the USS Atlanta, onboard which it traversed the Pacific Ocean. It was subsequently gifted to the ship's namesake city of Atlanta, Georgia.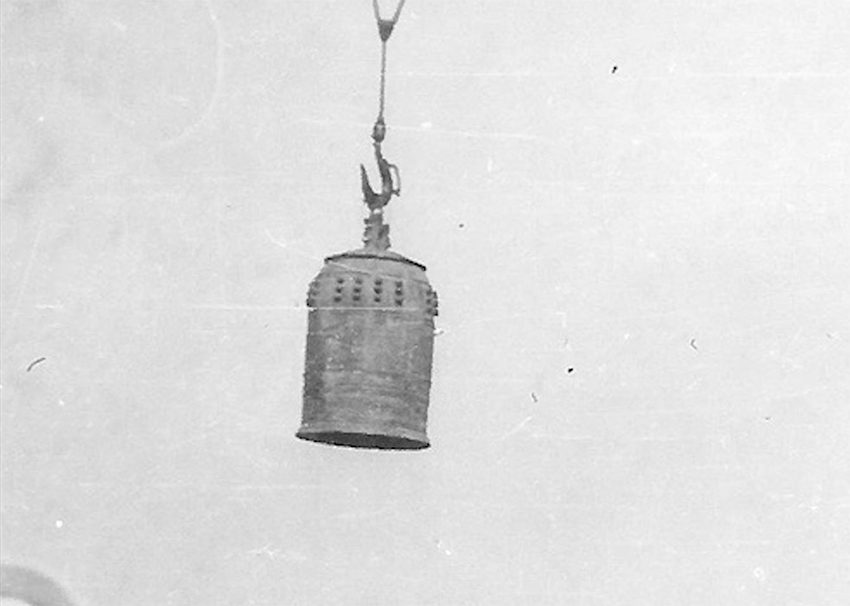 Image: Historic photograph of a Japanese bonshō temple bell lifted by crane.
By chance, a woman living in Atlanta happened across the bell some years later, translated the classical Japanese inscriptions, and traced its origin back to the Jodo-ji Temple in Yokosuka, Japan. By 1961, plans were underway to repatriate the bell to its homeland. The bell again hitched a ride on a U.S. Navy ship, and on May 30 of that year, a ceremony of repatriation was held to accept the bonshō back into the temple.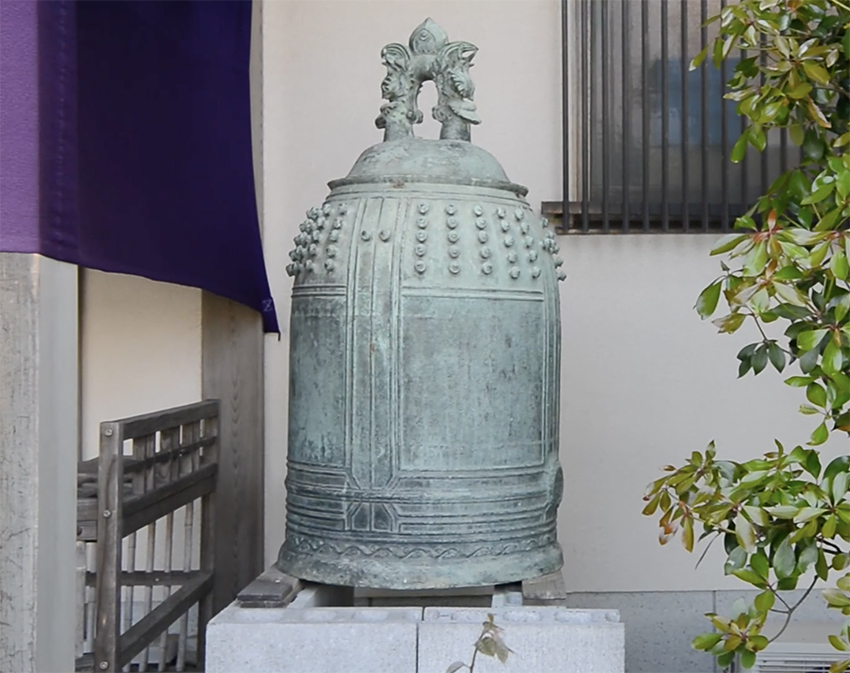 Image: The bonshō installed unhung at the Jodo-ji Temple in Yokosuka, Kanagawa, Japan.
The bonshō, however, did not immediately return to service. It was temporarily installed on the temple grounds unhung, precluding the bell from ringing. The years rolled on and for decades it sat quietly. Then, on May 30, 2023 (exactly 62 years to the day from its return to Japan, and 78 years since the end of World War II), an event was organized to rededicate the bell and celebrate its permanent installation at the temple. The bonshō finally resounded once again. Officials from both nations gathered to hear the bell's deep resonance – an enduring symbol of the continued prosperity and partnership between the United States and Japan.
Cover image: Carl Lahti, Commander, Naval Forces Japan, Navy Region Japan; Michio Hemni, Chief Priest, Jodo-ji Temple; Katsuaki Kamiji, Mayor, Yokosuka; and Hiroshi Hiramatsu, Chairman, Yokosuka Chamber of Commerce, participate in a bell commemoration ceremony on May 30, 2023, at Jodo-ji Temple in Yokosuka, Kanagawa, Japan. Courtesy: Mass Communication Specialist 2nd Class Ashley M.C. Estrella, U.S. Navy.*
*The appearance of U.S. Department of Defense (DoD) visual information does not imply or constitute DoD endorsement.