The Bells in James Bond's "No Time to Die"
James Bond is back in the newly-released film, "No Time to Die" (2021), which packs all the punch of a classic 007 flick: flashy cars, sultry lovers, maniacal villains, and non-stop action. Daniel Craig reprises the role for his fifth and final turn in the tuxedo and we simply loved the more romantic and emotional nuance to the character. But this isn't a critical movie review. We're here to answer the burning question on everyone's minds: What about those bells?
In an early scene in the movie, Bond is pursued across an idyllic Italian town, driving his bulletproof Aston Martin DB5 tricked-out with Gatling guns and a smoke machine. The action heats up when he's trapped at the center of a piazza and surrounded by Range Rovers and motorcycles – all with intent to kill. With bullets whizzing and the bad guys narrowing in, three bells in an adjacent tower erupt in a cacophony over the milieu.
It's no secret that movie producers employ all sorts of visual effects and post-production enhancements to tell the best story they can, so we couldn't help but wonder: Are those bells real? Our bell sleuths tracked down some answers.
 
1 bell + 1 bell = 3 bells
Bond films are known for their globe-spanning locations and "No Time to Die" did not disappoint. From Jamaica to Norway and a host of spots in between, 007 racked-up the frequent flyer miles. This scene featuring three bells was shot in Matera, a small southern Italian town perched on a rocky outcrop in the region of Basilicata.
The exact location appears to be the Piazza Vittorio Veneto, which is flanked by the charming Chiesa della Mater Domini, or Church of Our Mother of the Lord, dating back to 1680. Here's where it gets interesting. Only two bells crown the church, above the coats of arms of the Knights of Malta and the Zurla family.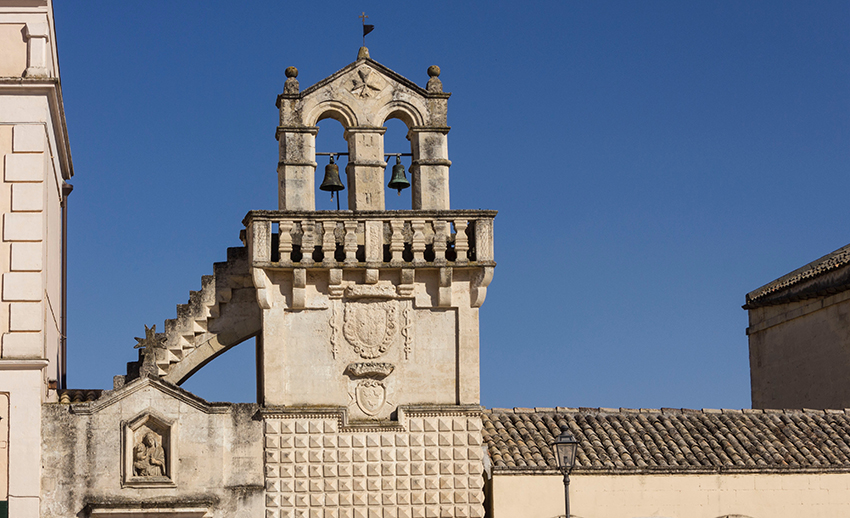 Image: Façade of the actual Chiesa della Mater Domini in Matera, Italy, with two bells in the bell tower.
Why did producers elect to manufacture a third? The simple answer: More bells are better! But we suspect that by adding a third bell, the director could more symmetrically frame the bird's-eye view of the dramatic shootout. Plus, three bells create more sound than two, and this scene is all about chaos and excitement.
Do you think our bell sleuths got it right or do you have more information to add? Let us know! Drop us a line and share your bell detective skills!
Cover image: Bells resound as bullets fire on the streets of Matera, Italy, in "No Time to Die" (2021) in a view from a three-bell tower. Courtesy: Metro-Goldwyn-Mayer Studios.