A Bell and an Antipope
In June 1439, the Council of Basel deposed Pope Eugene IV, but there was a problem: did they have the authority? The Pope certainly didn't think so and quickly moved to excommunicate the prelates, but they pressed forward with the election of Amadeus VIII, a Savoyard nobleman who restyled himself as the new Pope Felix V.
Felix V arrived in Basel a few months later for his coronation and thus became the last historical antipope – the official term for a claimant to the papacy in opposition to the lawful Bishop of Rome. How was this possible? Each had the backing of powerful but conflicting factions in Europe. And while Felix V would eventually abdicate and accept the authority of Pope Nicholas V a decade later, this was the summer of 1440 and he was feeling pretty good as the new pontiff.
In commemoration, Felix V commissioned a bell to be cast for the Münster cathedral on the banks of the Rhine River. The bell was cast by Hans Peier in early September 1442, but while sounding a storm warning in June 1489, it shattered. Undeterred, the cathedral clergy tasked Ludwig Peier to cast a new bell in 1490, but he never delivered on the order. Not until late 1493 did the commission fall to gun founder Jerg von Guntheim of Strasbourg to complete the project.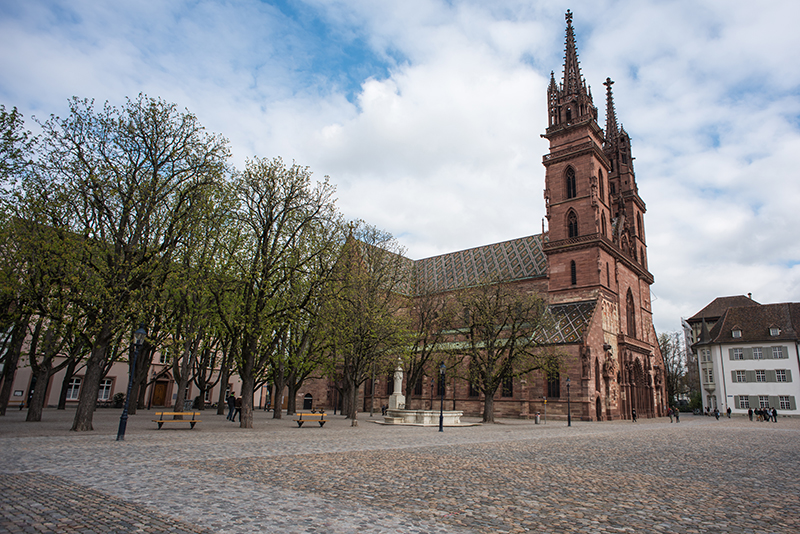 Basel Münster, originally a Catholic cathedral and today a Reformed Protestant church, in early spring with the Münsterplatz, or plaza, in the foreground.
Inscribed upon the surface of the new Pabstglocke (papal bell) was the plea, "Christus, König der Herrlichkeit, komm zu uns mit Frieden" (Christ, King of Glory, come to us in Peace). Other accounts add that the bell also bore the inscription: "Gift of Felix V at the time of the Council; broken by the impudence of ringers." Bell inscriptions have a history of throwing shade. Pictured above are fragments of this second bell, drilled out and preserved in 1873 before the entire set of bells that rang above the Münsterplatz were recast.
One fragment depicts the coat of arms of the House of Savoy, surmounted by the keys of St. Peter and the papal tiara, or three-tiered crown. Between these elements is the figure of a Rappen, the local equivalent of a penny. A half-penny is included above the cross. The other fragment portrays Mary with an infant Jesus in her arms. Both are in the collection of the Basel Historical Museum.
Bells offer a fascinating record of humanity and our shared histories. At the National Bell Festival, we work to preserve these culturally significant instruments and to restore historical bells – keeping them ringing and tolling stories for generations to come.
Cover image: Fragment of the papal bell ('Pabstglocke') of Basel Münster. Courtesy: Basel Historical Museum.