The 2022 National Bell Festival in Review
That's a wrap! The last reverberations from the final toll of the 2022 National Bell Festival have rippled across the skies. We couldn't be more excited about all we shared, experienced, and learned at BellFest this year.
It all began in Australia. At midnight local time on New Year's Eve (that's a very early 8:00am for us in Washington, D.C.), the Bathurst War Memorial Carillon erupted into sound. Following the strokes of midnight, Carillonneur Denise Garland played a stirring arrangement of "Auld Lang Syne" on the 47 tower bells.
Her performance ignited a chain reaction of carillon recitals across the globe, from icy Sweden to balmy California, as midnight reached subsequent time zones. It was a beautiful moment of collective humanity and international unity, as the sound of ringing bells wafted across borders.
 
…and we were just getting started!
By the time morning on New Year's Day had rolled around, we'd enjoyed performances across four continents and hundreds of bells. But plenty more was in store! The pandemic forced some of our change ringing events (which require close contact in narrow bell towers) to be postponed until next year, but that didn't dampen our spirit or our sound! Carillons rang out over cities across America.
Our favorite carillon recital? How could we choose! But it was wonderful to hear the largest carillon in the world under the command of Carillonneur Charles Semowich ringing in the New Year from the tallest steeple in North America: the Laura Spelman Rockefeller Memorial Carillon at New York's Riverside Church.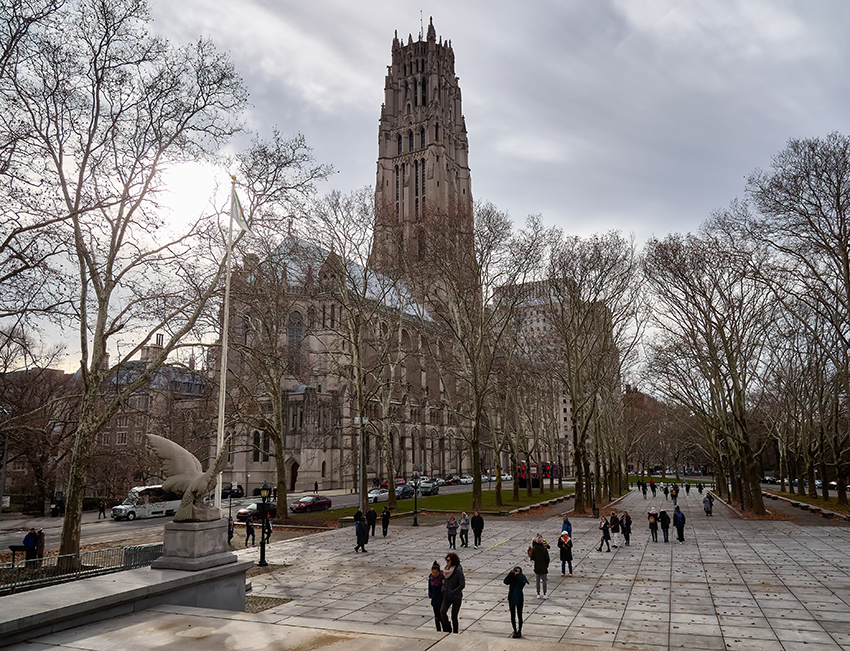 Image: The bell tower of the Laura Spelman Rockefeller Memorial Carillon rises above The Riverside Church on a wintry day in Manhattan.
At 2:00pm Eastern, cathedrals and churches, community organizations and historical structures, national parks and memorials, and people from coast to coast gathered to ring their bells and contribute to the canopy of sound. Talk about some good vibrations!
 
Paying tribute to an American hero
One of the most poignant moments of New Year's Day was when we gathered at the Military Women's Memorial at Arlington National Cemetery to recognize a woman who needs no introduction: Ms. Harriet Tubman. We were joined by the abolitionist's great-great-great-grandniece, Ms. Ernestine Wyatt.
To commemorate the bicentennial of Ms. Tubman's birth, Ms. Wyatt rang a ceremonial first toll on a historic bell within the Memorial's collection, followed by 199 other tolls by women Veterans of America's Armed Forces. Exactly 200 tolls for 200 years, along with stories and memories of a true American hero.
U.S. Army Veteran Carla Moss said it best: "When I rang the bell today, I held back tears as I was deeply moved, but in an understanding way. I understood her purpose and actions. In those few moments, glimpses of her spirit and her strength, her power and energy, and her determination were felt by all. With each bell ring, I was also reminded of her sacrifices, her trials, what she endured for years, and what she did for others." It was a moment we won't soon forget.
 
Bringing the ringing to you!
We didn't want those who were far away from a bell tower or who were quarantining during the pandemic to be left out, so we organized several streaming events to bring the bells even closer. From learning about the art and instrument of the carillon, to an electrifying concert by Carillonneur Charlie St. Cyr-Paul, you could tune-in, rock-out, and ring-on from anywhere!
Image: Carillonneur Charlie St. Cyr-Paul of 'Cast in Bronze' performs on bells during a carillon recital for the National Bell Festival.
We'll be sharing more images and stories from the 2022 National Bell Festival over on our Facebook and Instagram handles, so feel free to give us a like and a follow to stay in the loop! There's so much to come in the year ahead!
Cover image: Two young bell enthusiasts wearing our signature BellFest beanies listen to a carillon recital at the Basilica of the National Shrine of the Immaculate Conception in Washington, D.C.