At 113 Years Old, a Bell in Kansas Could Use Your Help
Five miles northeast of Topeka, Kansas, in the village of Grantville, stands a proud church with a heritage as old as the state itself. The Grantville United Methodist Church has served the community with spirit and grace since 1855, six years before Kansas became the 34th state in the Union.
Undeterred by a lightning-strike fire that decimated the building in the early hours of July 30, 1909, leaving only a few chairs, the pulpit, and the Sunday School organ un-scorched, the congregation rebuilt the church to its present form and rededicated it the following year. At the southwest corner of the building, a belfry rises some 40 feet above the village and houses a single bell.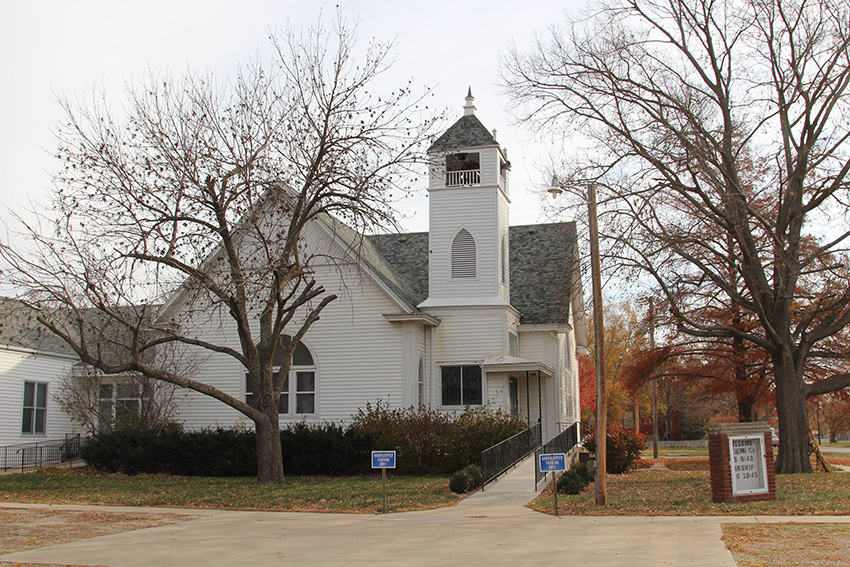 Image: Grantville United Methodist Church and bell tower in Grantville, Kansas. Courtesy: Grantville UMC.
The Grantville UMC bell was purchased from Charles Singleton Bell's eponymous C.S. Bell and Co. foundry of Hillsboro, Ohio, to adorn the new church building. Cast in a steel alloy in October 1909, the bell measures 24" high and 36" wide. For over a hundred years, the bell has given service to the community – calling the faithful to worship and tolling at moments of distinct importance.
Indeed, so cherished was the sound of the bell to Mrs. Della Crosby of Topeka, that upon her death in 1953, she bequeathed a trust to the care of the church in memory of her parents. The gift came with one stipulation: that the bell should be rung, without fail, every Sunday.
Age and the elements now put that vow at risk. The belfry and bell need substantial structural and mechanical repairs to continue in safe operation and, for now, the bell has fallen silent. The current wheel upon which the bell rotates is made of significantly-degraded wood. Additional stress to the structure could see the heavy bell come crashing down through the belfry floor.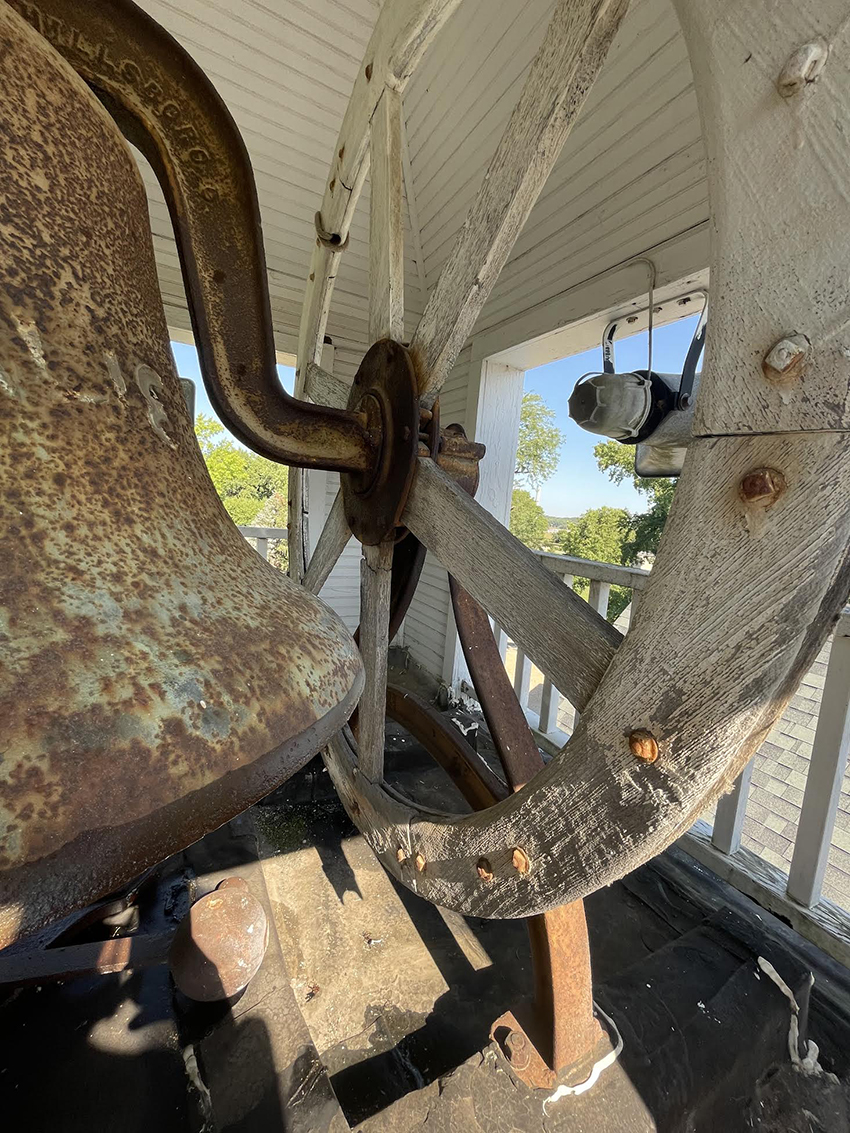 Image: The aged wooden wheel and rusted mechanical parts of the Grantville United Methodist Church bell against the backdrop of the leaking bell tower. Courtesy: Jimmy Essman, Grantville UMC.
The heartbeat of the community for generations, the buoyant toll (which can be heard for roughly two miles across the plains) is sorely missed. Restoration costs proposed by The Verdin Company of Cincinnati, Ohio, include the production of a new A-stand with steel bearings, along with a new steel wheel, clapper, clapper springs, and headpiece.
While the church can cover about half of the repair and restoration costs, more is needed. Donations in any amount may be sent to Grantville UMC at 3724 South St., Grantville, KS 66429. Additional contact information may be found on the church's website. Consider making a gift to keep this bell ringing, and to keep alive the faith of an early group of pioneering settlers.
Cover image: The bell within the belfry at Grantville United Methodist Church in Grantville, Kansas. Courtesy: Jimmy Essman, Grantville UMC.