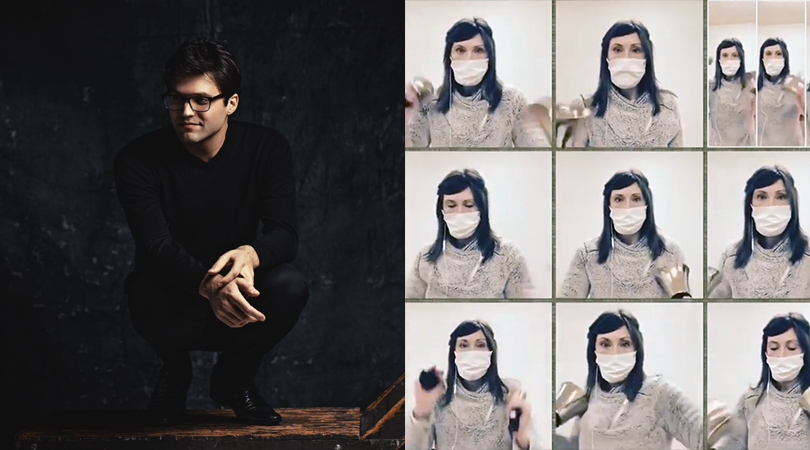 At Home Concert
Friday, May 22, 2020
8:00pm
Dreaming of escaping self-isolation? We can't help you leave your home (nor do we recommend it), but we can whisk you away for an evening of enchanting music, hearty laughs, and scintillating cocktails. Join the National Bell Festival as we present two incredible artists in one comfortable venue: your home. With Jason Solounias on piano and Heather Adelsberger on handbells, you'll enjoy a mixed-repertoire program of beloved classical works, including:
On Piano
Franz Liszt - Les cloches de Geneve (The Bells of Geneva) 
Maurice Ravel - La vallée des cloches (The Valley of the Bells)
George Gershwin - The Man I Love 
On Handbells
The Strife is O'er
Great is Thy Faithfulness
On Piano
Francisco Mingone  - Vasla de Esquina No. 1 (Street Corner Waltz)
Radames Gnatalli - Negaceando Choro and Vaidosa Valsa 
J.S. Bach - Prelude in C Major
Heitor Villa-Lobos - Dansa Miudinho from Bachianas Brasileiras No.4 Dansa
Duet
Georges Hüe - Les Clochettes de Muguets (The Little Bells of the Lilies of the Valley)
Run time: approx. 45 minutes
Sit back, unwind, and let the lush harmonies wash over you.
 
How to get a ticket.
If you're a Bell Raiser (and let's face it, you should be), you'll receive a link to the concert via email before it begins (expect it by noon on Friday, May 22). It's as simple as that. If you're not a Bell Raiser, ask yourself: why not? Then:
Donate at least $5 to the National Bell Festival. We're a 501(c)(3) charitable organization, so your contribution is tax deductible. We use these funds to restore historic bells and set them ringing again.
You'll receive an email confirmation that will serve as your official donation receipt. Save this for tax purposes later.
We'll send you an email with a link to the concert before it begins (expect it by noon on Friday, May 22). 
The concert will be held via an online screen-sharing platform. There will be no software to download. Simply follow the link at the set time (maybe a couple minutes before, in case you have any trouble with your speakers) and you're good-to-go!
Sip along!
What would an evening out in be without a delicious cocktail at hand? We're stirring up and cooling down with a signature drink: The Swingin' Slushie. To make this cocktail, you'll need:
1 oz water
3 oz tequila
3 scoops lime sorbet
Garnish of salt and lime
Part margarita and part ice cream float, this cocktail is all good – and it couldn't be easier to make. Here's how you do it:
Salt the rim of your favorite cocktail or margarita glass – or any worthy vessel, for that matter.
Add tequila and water, then dollop in your lime sorbet.
Garnish with a slice of lime, if you're fancy.
Et voilà! You have the perfect accompaniment to our at-home concert in under 2 minutes. Looking to shake it up? You can! Shaking or stirring creates a creamier texture. You can also try sugar on the rim instead of salt, or experiment with other sorbet flavors like strawberry and mango.