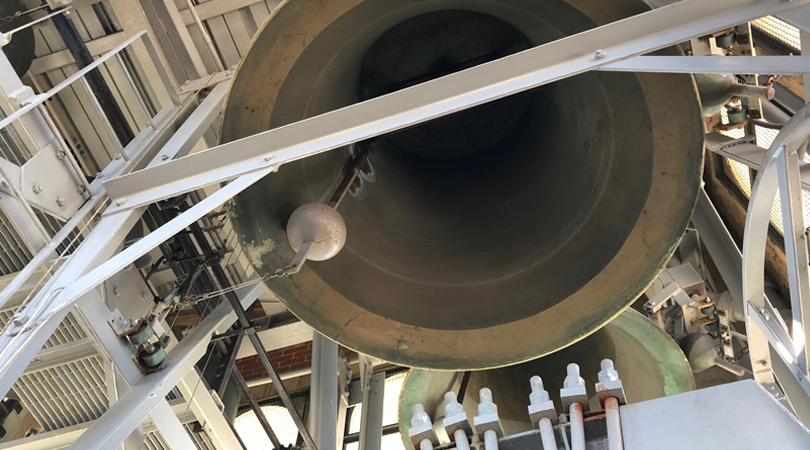 Site Inspections
A well-made, tuned, and installed bell can last for generations, which often means that the responsibility of bell tower maintenance has long since passed down from the people who originally installed a bell, chime, or carillon into a tower.
Do you know what's in your tower?
It's important to be familiar with the condition of your bell and its fittings, as worn-out parts, rusty mechanisms, or rotting wood can pose serious safety concerns. Imagine thousands of pounds of solid bronze crashing several stories to the ground. Let's take proactive measures to prevent that.
The importance of routine bell tower maintenance cannot be overstated. Instruments benefit from annual servicing, as many bells lay idle for extended periods or are exposed to inclement weather and seasonal fluctuations. If it's been a while since someone's peeked into the belfry, bell tower maintenance is probably long overdue. 
We can help.
We regularly guide bell towers through the process of inspection and assessment by visiting sites ourselves or recommending one of our trusted partners across the nation. This typically includes a deep-dive into the history and provenance of the bell, a complete tower and instrument assessment, tuning report, detailed recommendations for repair or maintenance, and a quote to complete any needed work – whether repairs from a licensed and insured tower contractor, or bell restoration work at a foundry.
Together with our resident carillonneurs, we can also advise your organization on how to establish a ringing schedule, hire a musician, or find instruction on playing tower bell instruments. You can also expect tips and best practices for engaging with the local community and creating programming for your neighborhood.