We Rang. We Rolled.
When the bus gets rocking, the bells start ringing! In collaboration with Virginia Bronze and Big Bus Tours, we took our show on the road, zipping around the streets of D.C. to perform bus top pop-up concerts at sites across the city on New Year's Day.
Where did we ring?
Our first concert paid tribute to our first president, as we rolled up to a cheerful crowd at the Washington Monument. Washingtonians and visitors to our city gathered 'round to hear pop favorites and iconic songs performed on handbell, before we rolled out for more mini concerts. Virginia Bronze nailed the New Year's vibe – even playing a rendition of Nats' favorite, Baby Shark! From the National Mall, we followed the Big Bus Red Loop route (but not their timetable), performing melodies and tunes between noon and 4:00pm wherever we felt like creating a joyful sound.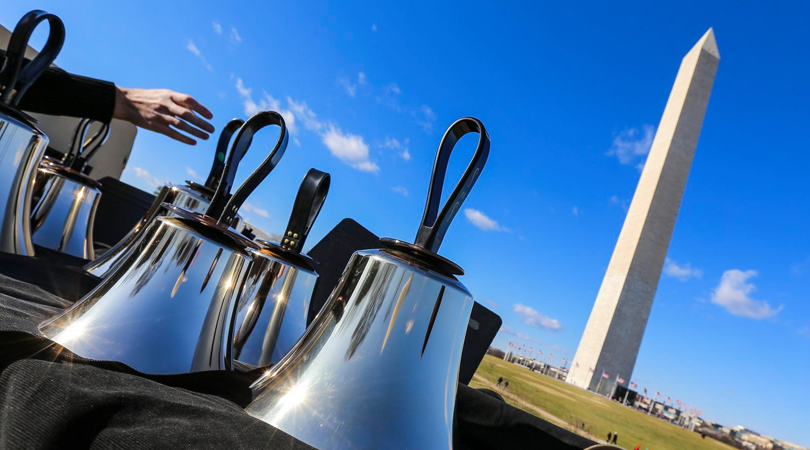 Meet the artists.
As a premier handbell ensemble, just across the river from our nation's capital, Virginia Bronze has performed with the Washington Chorus, the Cathedral Choral Society, Gay Men's Chorus of Washington, D.C., and the Alexandria Symphony. The ringers have been presented at the Concert Hall of the John F. Kennedy Center for the Performing Arts and The Music Center at Strathmore, and are artists-in-residence at the George Washington Masonic National Memorial.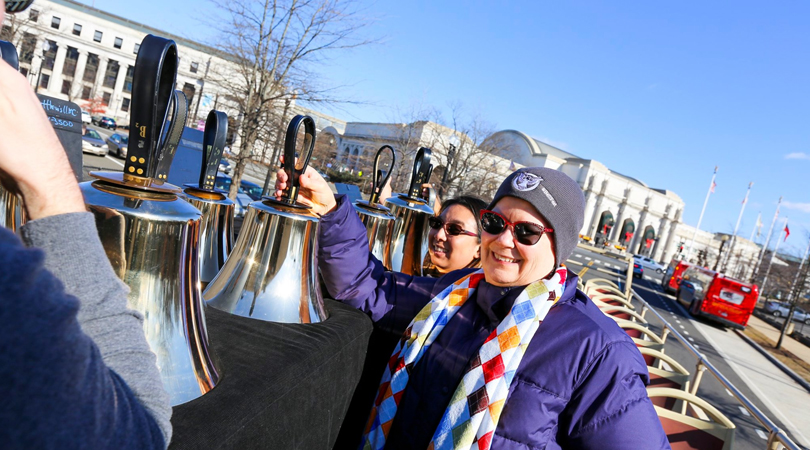 Virginia Bronze performs on 7 octaves of Schulmerich handbells (85 bells: C2-C9); 5 octaves of Malmark Choirchimes® (61 chimes: C3-C8); 2 octaves of Schulmerich Silver Melody Bells® (25 bells: C5-C7) and 3 octaves of Petit & Fritsen handbells. The choir is under the direction of Brian Seemann.
See more photos from the event and follow along on Facebook.