Preserving the New Bedford Chime
Way back in 1888, the McShane Bell Company of St. Louis, Missouri, crafted a set of 14 cast bronze bells for a parish in New Bedford, Massachusetts. For over a century, those bells resounded over the neighboring community, calling the faithful to worship, announcing joyous occasions like weddings, and solemnly tolling at the death of a beloved neighbor. 
Today, those bells have been removed from their original tower, but a local nonprofit is working to keep them ringing in New Bedford. Save the Bells, Inc. has purchased the historic bells and has tapped The Verdin Company to restore them to their former thundering glory.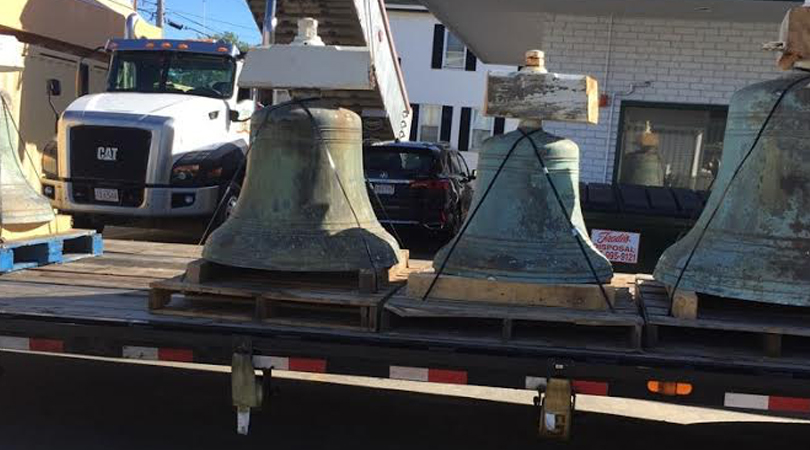 Image: Bells from the New Bedford chime en route to The Verdin Company in Cincinnati, Ohio, for refurbishment work.
A full refurbishment project is underway at Verdin's foundry in Ohio, but work is still to be done on the bells' final installation back in New Bedford. Save the Bells, Inc. has envisioned a 41-foot custom bell and clock tower, fabricated by Verdin, to be installed in Clasky Common Park – a stone's throw from the Acushnet River.
From its perch in the center of the park, the chime will play a major role in the city's holiday celebrations and light show, while becoming a year-round attraction, educational focal point, and historic feature. A customizable digital bell controller will sound the bells at set times throughout the day and allow the opportunity for more expansive programming during special occasions.
To complete this work, Save the Bells, Inc. needs your help.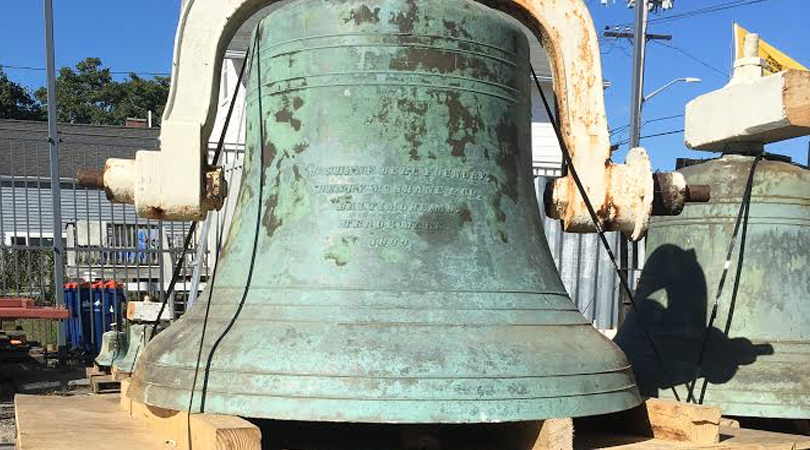 Image: Detail of the largest bell within the New Bedford Chime.
 
How to help make it ring in New Bedford
Want to help Save the Bells, Inc. refurbish their historic bells and build a community-focused bell tower? Donations may be sent to:
New Bedford Credit Union
ATTN: Save the Bells, Inc.
1150 Purchase St.
New Bedford, MA 02740
Save the Bells, Inc. is a registered 501(c)3 non-profit organization, exclusively funded through grants and donations from friends and citizens of New Bedford, Massachusetts. For additional information, contact Suzanne Sullivan, founder, at (508) 525-0660.
The National Bell Festival and Save the Bells, Inc. have strategically aligned to focus attention on the restoration of the New Bedford chime. No formal affiliation or partnership is implied. The National Bell Festival is not responsible for nor has control over content found outside of Bells.org.