Out with a Bang
How do you wrap up the first National Bell Festival? We could think of no better way than the lush harmonies and heartfelt lyrics, often with a wink or quirky twist, of brilliant singer/songwriter duo: Griefcat. Described as "Local Favorites" by Washington City Paper, Griefcat is comprised of veteran singer-songwriters Louisa Hall and Nardo Lilly, who are recording their first album together at Ivakota Studio in D.C. 
Nardo and Louisa met behind the scenes at a variety show in 2015, and felt an immediate kinship after Nardo sang about a Hot Park Ranger, and Louisa about her Barista Boyfriend. They reunited to play the 9:30 Club in 2018 and vowed to form a band: Griefcat. They scheduled their first rehearsal in 2019, wrote a song about vaccines and egg rolls, and the rest is (recent) history.
Griefcat's songs range from hilarious to sincere with a unique sound akin to Flight of the Conchords, mixed with a little Dolly Parton and an indie flair. Griefcat entertains with music about the trials, joys, and tribulations of modern life. As one concert goer said, seeing Griefcat was "the most fun I've had since Lizzo."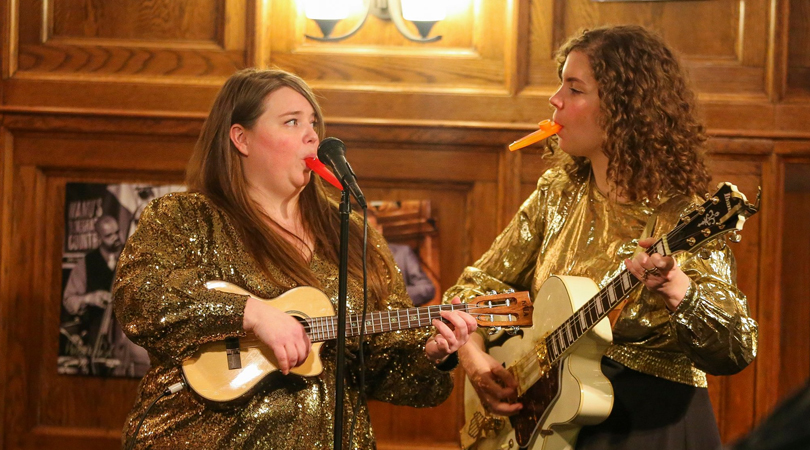 Set in the upper room of Mr. Henry's (the Capitol Hill staple where Roberta Flack got her start), it was a performance of sheer life-affirming delight. During the concert, guests could grab a nibble or tipple, as Mr. Henry's is famous for their comfort foods and great eats amid Victorian-inspired memorabilia. The repertoire featured a delightful array of amusing melodies, including "Don't worry. Be happy!" (played on the kazoo, naturally) and even a song about presidential contender Pete Buttigieg. Festivalgoers were all smiles as the sun set on New Year's Day and the first National Bell Festival came to a bittersweet close. We wonder what's in store for next year…
See more photos from the event and follow along on Facebook.