Orchardist Celebrates 150 Years of Family Business with Bell Ringing Ceremony
Rendleman Orchards, tucked into the rolling hills bordering Shawnee National Forest, traces its roots to 1873, when John and Isabelle Rendleman settled on 88 acres of fertile land and established the original family farm. One hundred fifty years later, the farm has grown into one of Southern Illinois' most fruitful orchards across 850 acres, supplying fresh peaches, nectarines, and apples to commercial produce markets throughout the Midwest.
Spanning the decades, the orchard has remained under family leadership, now in its fifth generation.
John and Isabelle Rendleman, 1st generation
Grover and Iva Rendleman, 2nd generation
Helen (Rendleman) Sirles, 3rd generation
James and Mary Rendleman, 3rd generation
Ren and Betty Sirles, 4th generation
Wayne and Michelle Sirles, 5th generation
To mark 150 years of continuous operation by the same family, Rendleman Orchards is currently planning a grand celebration. A proclamation was read out at the Illinois State Capitol earlier this year by Illinois State Senator Dale Fowler. Next week, the family will welcome the public to the orchard for a commemorative bell ringing ceremony.
Remarks by state dignitaries and local notables will kick-off the event, before 82-year-old Ren Sirles tolls a specially-commissioned brass bell, engraved with the farm's logo and mounted to an antique cider press.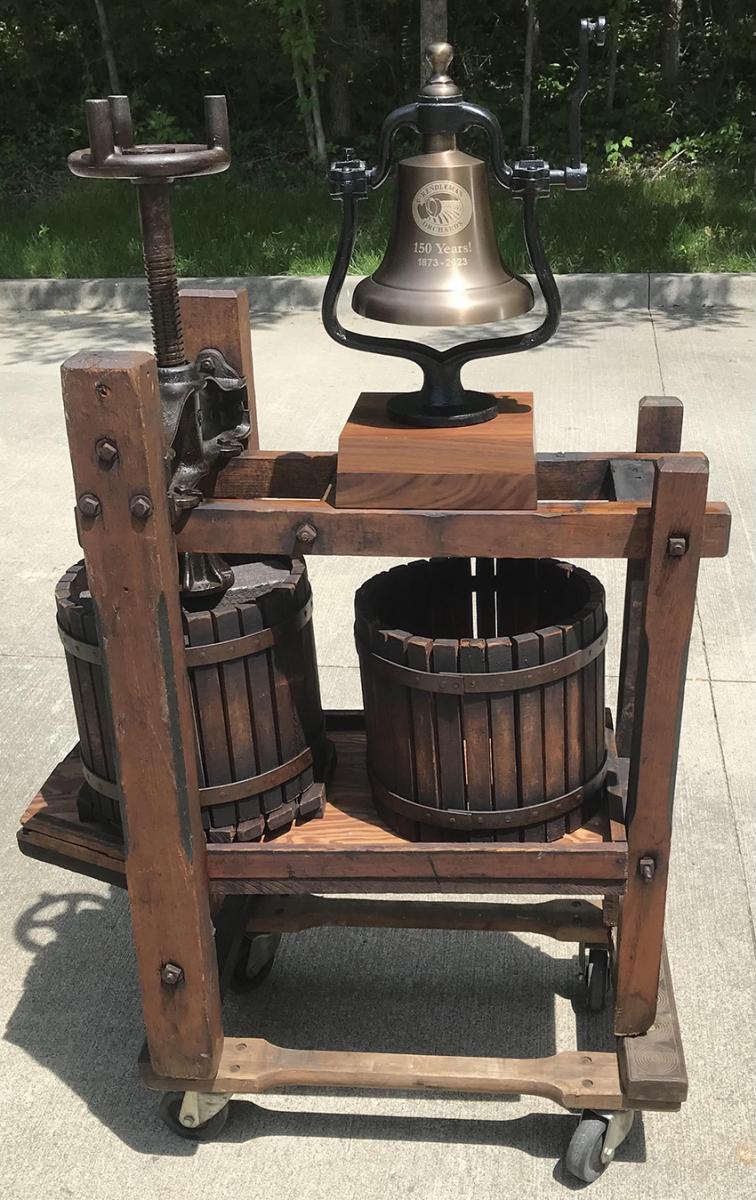 Image: A specially-commissioned brass bell, engraved with the Rendleman Orchards logo and the text: "150 Years! 1873-2023," is mounted to an antique apple cider press. Courtesy: Rendleman Orchards.
The first 500 guests to the orchard will be given one of 500 mini bells to ring in accord. Guests will then be invited to hang the bells on antique harvest ladders during an immersive walk through a timeline of the family and farm, to delicately ring in the wind throughout the 150th season. Not only marking 150 years of history, the ringing of the bells will also signal a continued commitment to local, sustainable farming in our nation's heartland for generations to come.
A violinist, live event artist, and President Lincoln impersonator will add to the festive mood, as will a performance by a dance troop paying tribute to the Hispanic culture and heritage of the orchard's harvest and farm workers.
The National Bell Festival is thrilled to send our hearty good wishes to the Rendleman-Sirles family and the entire orchard team during this sesquicentennial year.
Cover image: Michelle and Wayne Sirles, fifth generation owner-operators of Rendleman Orchards, stand among the farm's acclaimed peach trees. Courtesy: Rendleman Orchards.