An Old Bell Rings Anew in Georgetown
The 19th-century bell at Georgetown Lutheran Church has resounded for the first time in decades, following a months-long restoration effort funded by the National Bell Festival. Marking 250 years since the congregation's founding (1769-2019), the bell's return and rededication celebrations had been delayed by the COVID-19 pandemic, but were finally realized this last weekend.
Following the morning worship service at Washington's oldest Lutheran church, congregation members and guests of the National Bell Festival gathered around the veil-draped bell within the narthex. Festival director Paul Ashe gave a few remarks on the bell's enigmatic past, before sweeping away the shroud and revealing the newly-restored bell.
The bell had just returned from B.A. Sunderlin Bellfoundry in Ruther Glen, Virginia, where the inspection, stabilization, and restoration work had been completed. A century of toxic rust and oxidation were removed from the bell's surface. The crack was mapped and stabilized, and a new wood and steel stand was built to display the bell safely inside the church.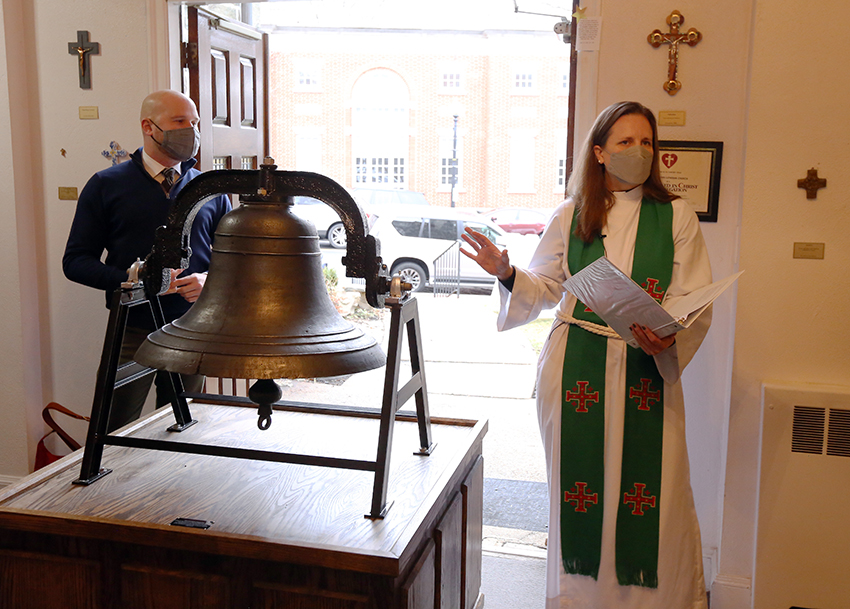 Pastor Brett Wilson (right) rededicates the newly-restored bell at Georgetown Lutheran Church, with National Bell Festival director Paul Ashe (left).
A blessing by Pastor Brett Wilson rededicated the bell, which hadn't rung since the mid-20th century, to the church's mission. Congregation member Sophie Guiny then led a countdown to the first tolling, when three clear strikes of the clapper produced rich, resonant tones, to the general approval of those gathered. An inscription engraved on a plate at the base of the structure reads:
This nineteenth-century bell
given to the church in 1937 by William H. Stombock
was restored by the National Bell Festival
and rededicated to mark the 250th anniversary
of the founding of Georgetown Lutheran Church
1769-2019
We are honored to have been a momentary steward of the bell during the church's semiquincentennial celebrations and are thrilled it's finally back and ringing again. Here's to the next century of bell ringing at Georgetown Lutheran Church!
 
Georgetown Lutheran Church

This article is part of a curated series on our work to restore the bell at Georgetown Lutheran Church in Washington, D.C. Continue exploring:

The National Bell Festival would like to thank B.A. Sunderlin Bellfoundry for their exceptional work in preserving this bell of historic importance.