Help Keep a Historic Bell Ringing in Connecticut
Just off the Town Green at the heart of historic North Haven, Connecticut, a mere 8 miles from storied Yale University, the red brick façade of St. John's Episcopal Church rises into a white wood-paneled steeple. Within, a solitary bell hangs aloft, bearing the inscription:
GEORGE H. HOLBROOK, EAST MEDWAY, MASS.
The bell weighs 1,030 lbs. and was both cast in bronze and installed in 1851 by Col. George Handel Holbrook, maker of over 11,000 bells in his tenure leading the East Medway foundry begun by his father, Major George Holbrook. The latter learned his craft in the bell foundry and clock-making business of one of America's most acclaimed sons, Paul Revere.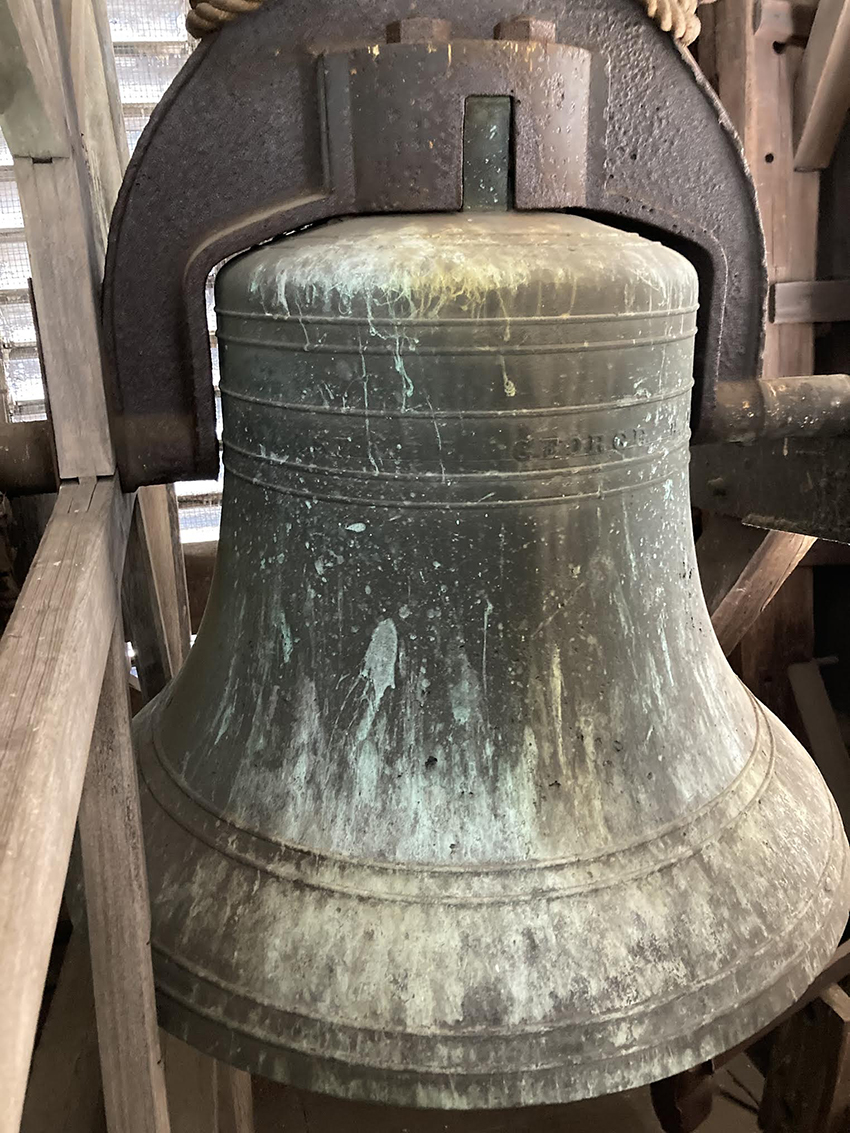 Image: A bell cast by George H. Holbrook in 1851 hangs in the steeple at St. John's Episcopal Church in North Haven, Connecticut. Courtesy: Jennifer Bassett, St. John's Episcopal Church.
The younger Holbrook carried on his father's tenacious spirit, as well as the musicality of the celebrated composer from whom he takes his middle name: George Frideric Handel. As The History of Medway, Mass., 1713 to 1885, editorializes:
Major George Holbrook, who established the foundry, was a man who had great ingenuity, and who could work his way out of any mechanical predicament, and could successfully plan and lay out the work for others, though he possessed no great faculty of doing the work himself. It is to his son, Colonel George H. Holbrook, who became an eminent musician, that is due the credit of improving the tone of the bells and changing them from noisy machines to musical instruments.
Such is the provenance of the bell that hangs at St. John's Episcopal Church. To purchase the bell at a cost of $257, the church attracted contributions from across town – not just the church membership. From an initial bequest of $100 by Jared Pierpont in 1849, and continuing through a pledge campaign to raise the remaining funds, the bell's story has always been one of possibility through community togetherness.
Both bell and steeple, at 171 years old, have given service over the town's beautiful green for generations, but through the wear of time and the elements, the historic structure is now threatened and in need of urgent repairs.
 
You can help.
The church is asking for support in its endeavor to preserve and protect this architectural gem. In fact, St. John's holds in trust the list of original contributors to the bell and steeple dating back to 1851. You can be a part of the next 171 years by adding your name to that list with a financial contribution. Want to help? Donations can be made online or via checks posted to:
St. John's Episcopal Church
3 Trumbull Pl.
North Haven, Connecticut 06473
Note in the memo that you wish your funds to be designated to the St. John's Church Bell and Steeple Fund. Together, we'll keep the pride, charm, and history of this bell ringing!
Cover image: The façade and steeple, wherein hangs an 1851 bell cast by George H. Holbrook, at St. John's Episcopal Church in North Haven, Connecticut.