"Christmas Bells" by Henry Wadsworth Longfellow
On the first day of December 1863, as the Civil War raged across America, the celebrated literary critic and poet Henry Wadsworth Longfellow received a telegram. It bore grave news. His son Charles, a Second Lieutenant in the 1st Massachusetts Cavalry, had been severely wounded during the Battle of Mine Run near Orange County, Virginia. The father raced to Washington, D.C., where his son was being transferred for surgery – a bullet had come within an inch of shattering his spine. It would be a long and painful recovery.
That Christmas Day, the elder Longfellow sat and contemplated the world around him. The merry pealing of bells rang out in contradistinction to reports of thundering cannons in the South. Hope and despair comingled. Under a furrowed brow, he set pen to paper, composing a poem that still resonates today. It tells of the descent from peace to barbarity, but ends with an indefatigable belief in the goodness of man and the ultimate triumph of righteousness.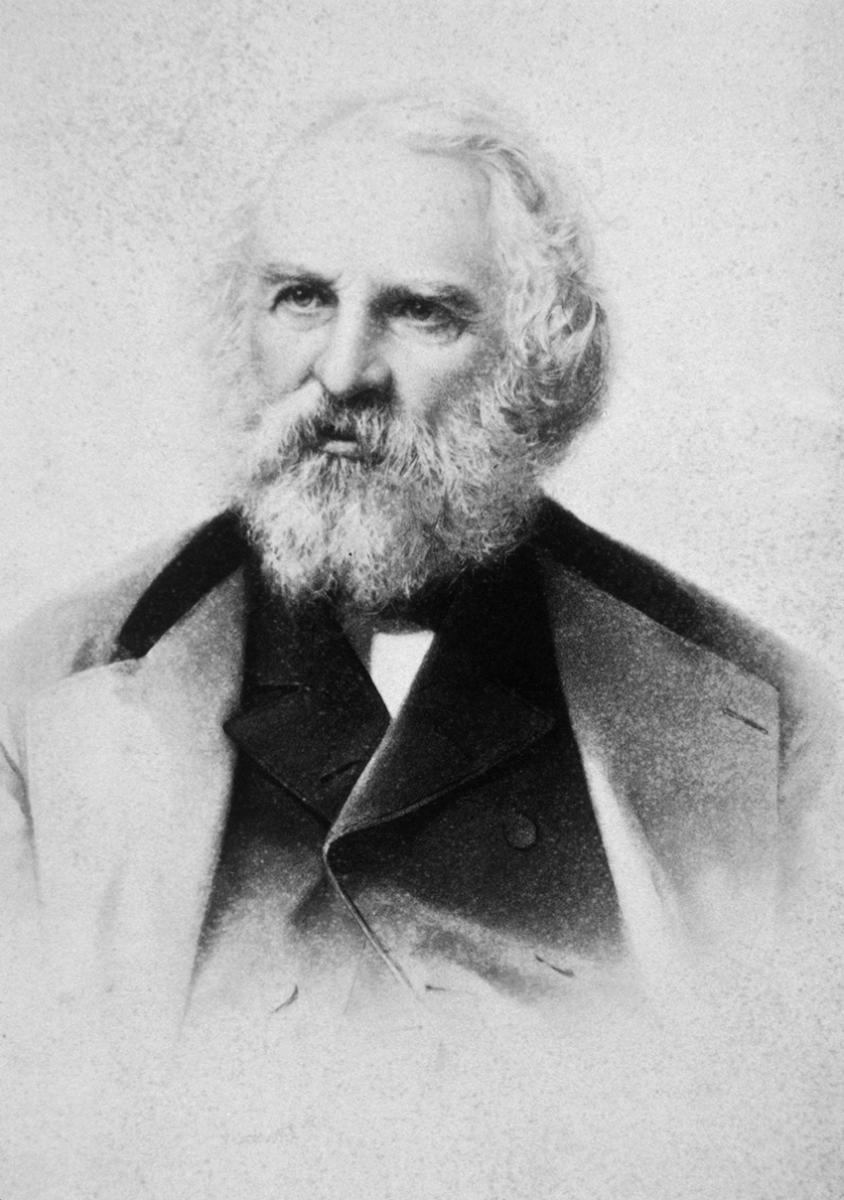 Image: Portrait photograph of Henry Wadsworth Longfellow (1807-1882) by Charles Taber.
 
"Christmas Bells"
Henry Wadsworth Longfellow (1807-1882)
I heard the bells on Christmas Day
Their old, familiar carols play,
    And wild and sweet
    The words repeat
Of peace on earth, good-will to men!
And thought how, as the day had come,
The belfries of all Christendom
    Had rolled along
    The unbroken song
Of peace on earth, good-will to men!
Till ringing, singing on its way,
The world revolved from night to day,
    A voice, a chime,
    A chant sublime
Of peace on earth, good-will to men!
Then from each black, accursed mouth
The cannon thundered in the South,
    And with the sound
    The carols drowned
Of peace on earth, good-will to men!
It was as if an earthquake rent
The hearth-stones of a continent,
    And made forlorn
    The households born
Of peace on earth, good-will to men!
And in despair I bowed my head;
"There is no peace on earth," I said;
    "For hate is strong,
    And mocks the song
Of peace on earth, good-will to men!"
Then pealed the bells more loud and deep:
"God is not dead, nor doth He sleep;
    The Wrong shall fail,
    The Right prevail,
With peace on earth, good-will to men."
Cover image: The snow-covered bell tower of the Sveta Troitsa Church in Bansko, Bulgaria. Completed in 1835, four bells cast by the Veleganovi brothers were added to the tower around 1855. The name of Abdulmejid I, the 31st Sultan of the Ottoman Empire, was inscribed on each so that the bells would not be destroyed by the Ottoman authorities, which then governed the territory.