Bell Tower Green Opens to the Public in Salisbury, North Carolina
A new park surrounding a historic bell tower has just opened to the public in Salisbury, North Carolina. After more than two years of construction (ground breaking for the project was Aug. 3, 2019) and over four years of planning and private fundraising to amass more than $13 million, construction barriers have finally come down on Bell Tower Green.
The centerpiece and namesake of the park is the looming bell tower that once formed part of First Presbyterian Church and the Salisbury Female Academy. Erected in 1892, the bell tower now commands a stately corner of the park overlooking creative play spaces, interactive fountains, gardens, a pavilion, and meandering paths. An intimate formal garden will soon host small weddings and ceremonies, while the expansive green lawn will serve as a venue for music festivals, a farmers' market, outdoor yoga, and more.
Bell Tower Green was designed for community engagement. Salisbury Mayor Karen Alexander, speaking during a gathering to celebrate the park's opening, said: "This park is the center of all the critical building blocks of a successful, diverse, collaborative city that values the many gifts and talents and treasures given so graciously by our citizens."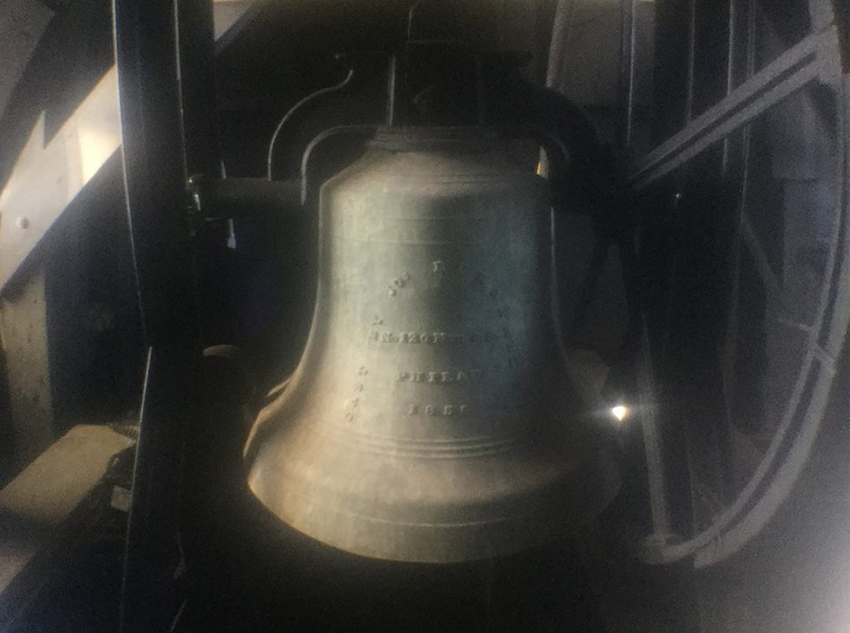 Image: The mid-nineteenth century bell, cast by the bell foundry of Joseph Bernhard at 120 N. 6th St. in Philadelphia, as photographed in the Salisbury bell tower at the start of construction. Courtesy: Bell Tower Green, Inc.
Bell towers have long been central hubs of thriving communities, serving as places to gather, celebrate, connect, and discuss the news of the day. Bell Tower Green is poised to enliven downtown Salisbury and foster small business growth in the surrounding area. 
The City of Salisbury Parks and Recreation staff and Public Works Department will take over maintenance and management of the park from the nonprofit that funded its construction, promising a well-lighted, safe, and comfortable environment for all park visitors. 
Want to visit the park? Bell Tower Green stretches an entire city block between West Innes, South Church, West Fisher, and South Jackson streets in Salisbury. The park is open to the public seven days a week.
Cover image: An aerial view of Bell Tower Green. Courtesy: Bell Tower Green, Inc.