A design takes shape
After researching and interviewing dozens of local architecture firms, the Emancipation Bells Campaign Cabinet selected O'Brien & Keane out of Arlington, Virginia, to design our space in the New Formalism style. The resulting structure, born from the collaboration, features two belfries surrounded by an amphitheater, performing arts space, and gardens.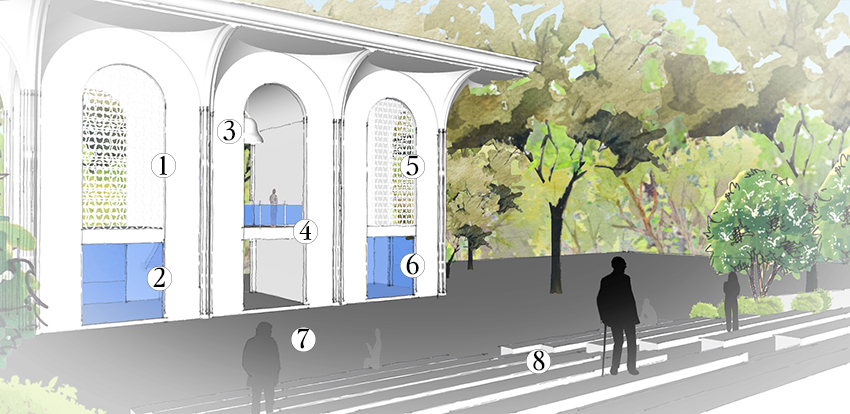 Image: A sketched rendering of the Emancipation Bells structure by O'Brien & Keane Architects.
Nestled on a wooded knoll, the structure shelters, engages, and inspires. Arches of cast stone constitute the ruling motif of the design and frame the ornamented grilles that protect the bells within. The eye is drawn up and across, elongating the height of the structure and uplifting the spirit. Distinct spaces, bridged together, take the form of a triumphal arch. Those spaces include:
Carillon Bell Chamber, housing the 51 carillon bells named after Black abolitionists plus the Freedom Seekers bell.
Carillonist and Clavier Room, where a musician (much like an organist) will create chords, harmonies, and melodies on the instrument – sending elegant tunes wafting across the area. 
The Great Emancipator, a large single bell that will toll 4x annually on dates significant to the Emancipation Proclamation: the date the Proclamation was announced, the date it was signed, D.C. Emancipation Day, and Juneteenth.
Observation Deck
Peal Bell Chamber, housing the 12 swinging 'Ring of Allies' peal bells. 
Change Ringing Room, where a team of ringers will sound the peal bells by pulling ropes at set intervals. 
Performing Arts Space to host performances, lectures, outdoor classes, and even special occasions like weddings.
Community Amphitheater, designed to seat hundreds of friends and neighbors for performances and events.
The concert-grade grand carillon of 52 bells across four octaves will join the family of carillons in the District (Washington National Cathedral, Basilica of the National Shrine of the Immaculate Conception, Netherlands Carillon, et al.) as the first of its kind east of the Anacostia River at a scale that's more approachable and accessible to audience and artists alike. 
Standing in commemoration of the signing of the Emancipation Proclamation, and with each of the bells named in honor of an abolitionist who worked to end slavery in America, the bells will keep the voices of abolitionists and the spirit of freedom alive and ringing.