Bell from a Dressing Table Set
Atop every grande dame's dressing table is oft to be found a set of necessaries, those elements of convenience that make her life more effortless and stylish. Marjorie Merriweather Post, who ruled haute société for much of the 20th century from her sprawling estates in New York, Washington, and Palm Beach, chose to surround herself with the sumptuous luxuries of French and Russian nobility. The same was true for her dressing room.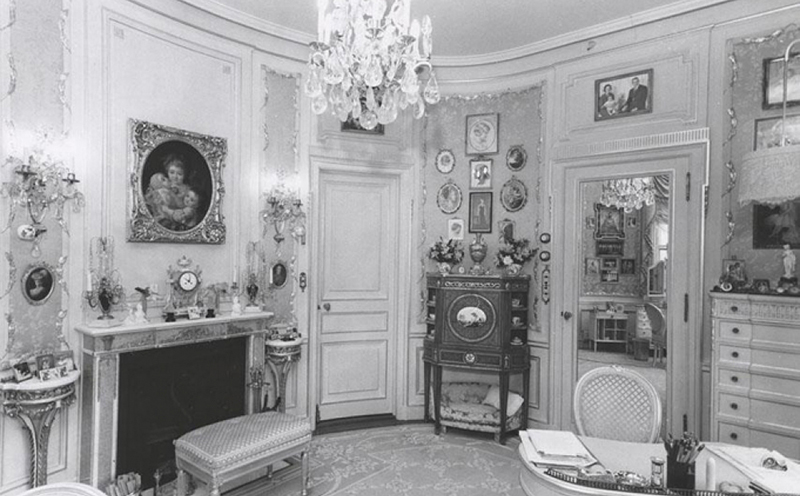 Surrounded by photographs of her family and with a view of the French Parterre, the dressing room at Hillwood served as Mrs. Post's morning office. There she took her breakfast, discussed menus with the butler, planned correspondence with her secretary, and otherwise ordered her day.
At Hillwood Estate, Mrs. Post's Washington address that's now become a museum to her collections, she amassed exquisite works of Fabergé, Sèvres porcelain, French objet d'art, and paintings from the old masters. In her dressing room, these items took on a more intimate tone without losing their luster. Take, for instance, an exquisite dressing table set crafted in silver gilt. Ornate glass bottles together with jewelry and soap boxes are each topped by the double-headed eagle of the Romanovs, perched on an orb surmounted by the imperial crown.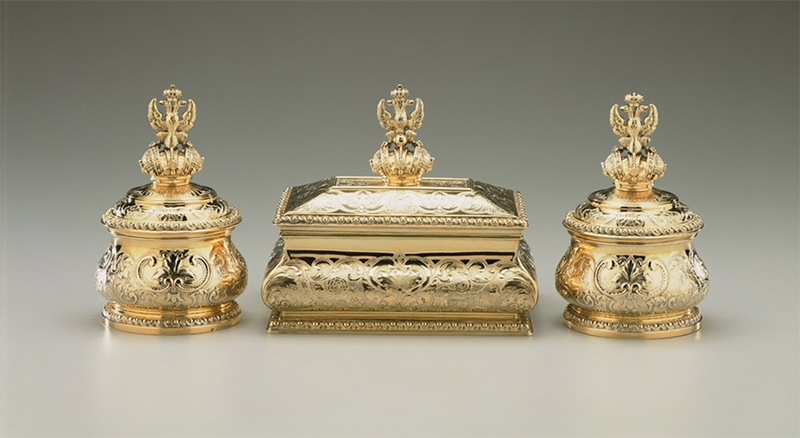 Jewelry boxes from the ornate dressing table set in Marjorie Merriweather Post's collection at Hillwood Estate.
Across the 18 pieces of the set, including a tumbler, candlestick, brush, and mirror, elaborate patterns of scrolls are interspersed with shells, flowers, and acanthus leaves on a stippled ground. A bell, standing a mere 3 inches tall, was meant to call others to her ladyship's side. The Russian imperial coat of arms, depicting Saint George the Dragon-slayer, stands out in high relief. In the time of the tsars, use of the Imperial Arms of the House of Romanov was restricted to the emperor and certain members of the imperial family, which denotes the royal patronage of these pieces.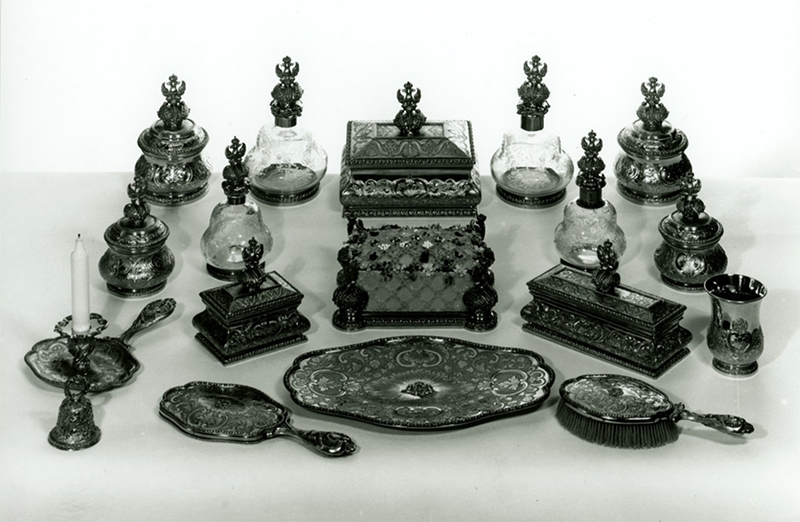 The complete imperial dressing table set of 18 pieces, as documented at the bequest of Marjorie Merriweather Post in 1973. The bell may be observed in the left foreground.
A maker's mark – C A – etched onto the bell denotes the piece as from the studio of Jean-Baptiste Casimir Aucoc, a notable Parisian silversmith. The bell in Mrs. Post's collection was cast in 1849 in the artist's studio at 4 & 6 Rue de la Paix in Paris. Aucoc started his career as a silversmith in 1821 and he quickly came to specialize in 'Nécessaire de Voyage,' or the dressing sets and traveling cases favored by women of society. He showcased at the French national exhibitions in 1827, 1839, and 1844, and brought home a prize medal for his dressing cases at the 1851 Great World Exhibition in London. His son, who succeeded him in business, went on to attain royal appointments to King Louis Philippe I and Napoleon III.
The bell was most recently featured as part of the exhibition Perfume and Seduction, and is now on view at Hillwood in Mrs. Post's dressing room.
Bells at ​Hillwood

This article is part of a curated series on bells at Hillwood Estate. Continue exploring:

The National Bell Festival would like to extend our gratitude to Hillwood Estate and Dr. Wilfried Zeisler, Chief Curator, for providing us this special glimpse at Marjorie Merriweather Post's collection.