The New Year Never Sounded So Good
At BellFest, we're pretty proud of the eclectic, world-class programming we present across the city on New Year's Day, and nowhere was this more evident than our classical music recital at the historic All Souls Episcopal Church. Through the enchanting lyricism and effortless grace of Sonya Hayes (violin), Devree Lewis (cello), and Jason Solounias (piano), festivalgoers were taken on a journey of deep reflections and frenzied, passionate melodies by two titans of music: Johannes Brahms and Dmitri Shostakovich. It all began with a somber call to silence through measured, resonate tolls on the tower's bourdon bell. With Lewis and Solounias at the helm, the program began. 
The Sonata for Cello and Piano Op.40 by Shostakovich (1906 - 1975) was decidedly brilliant, and when Solounias returned with Hayes for the Sonata for Violin and Piano Op. 108 by Brahms (1833 - 1897), the audience was completely spellbound. The music, the people, and the space all came together with splendid effect. Brief welcome remarks by the Reverend Jadon D. Hartsuff, Rector at All Souls, and Paul Ashe, founding director of the National Bell Festival, punctuated the performances. Then, as the last strains of the thundering conclusion in D minor echoed through the vaulted sanctuary, the bells erupted into a jubilant peal overhead and joined the applauding audience in celebration – coinciding perfectly with the start of our city-wide ringing outside. The New Year never sounded so good. 
Meet the artists.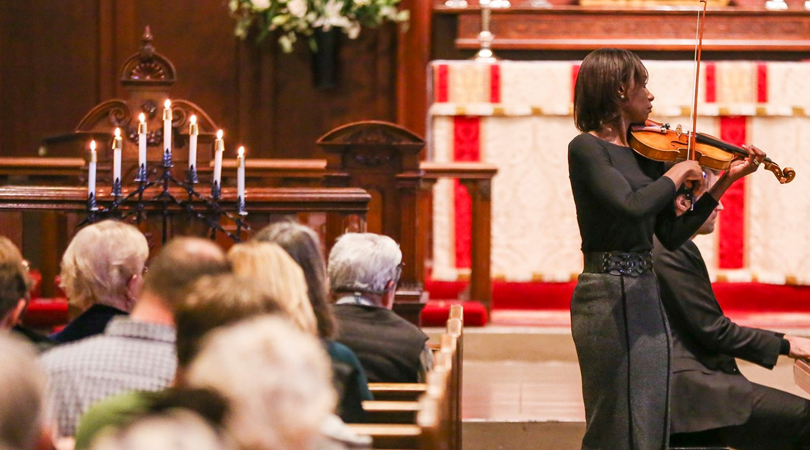 Sonya Hayes, violinist, made her solo debut with the Indianapolis Symphony Orchestra at the age of 15. She has performed as guest soloist with the National Symphony Orchestra (Young Peoples Concert Series). She was concertmaster for the Mantovani Orchestra's tour to China in 2011. 
Devree Lewis, cellist, is a prolific performer, arranger, and concert producer based in Washington, D.C. Principal cellist of Amadeus Orchestra, Ms. Lewis has recently appeared with rock band BossCo, Philadelphia-based Mill Race Collective, Trans-Siberian Orchestra, and with Susanna Mendlow in cello duo.
From 2009-2017 Ms. Lewis was principal cellist and soloist with the Pan American Symphony Orchestra, with regular performances at the Kennedy Center as well as tours to Lima, Peru and Beirut, Lebanon. She also performed with Primitivity, metal cello band, from 2009-2013 and can be heard on their 2013 album Evolution.
Ms. Lewis co-founded and performed with Trifilio Tango Trio across the U.S., Cuba, and Argentina from 2015-2018. Ms. Lewis arranged many of the selections on their three self-produced albums. She also arranges music for other ensembles; The Hubbard Quartet premiered her arrangement of E. Trifilio's "Luz de Agosto" at San Francisco's Center for New Music, and her arrangement of Gershwin's "Summertime" at Tanglewood Music Center. The National Symphony of Cuba premiered her arrangement of E. Trifilio's "Ni Pelota: Milonga" in 2017.
A dedicated educator, Ms. Lewis maintains a private studio of 30 piano and cello students; in 2017, she created curriculum for and directed D.C.'s first youth tango orchestra, culminating in a concert at the Embassy of Argentina featuring her tango arrangements for strings and bandoneon. In 2019 Ms. Lewis joined the faculty of Cellospeak, a summer workshop for adult cello students.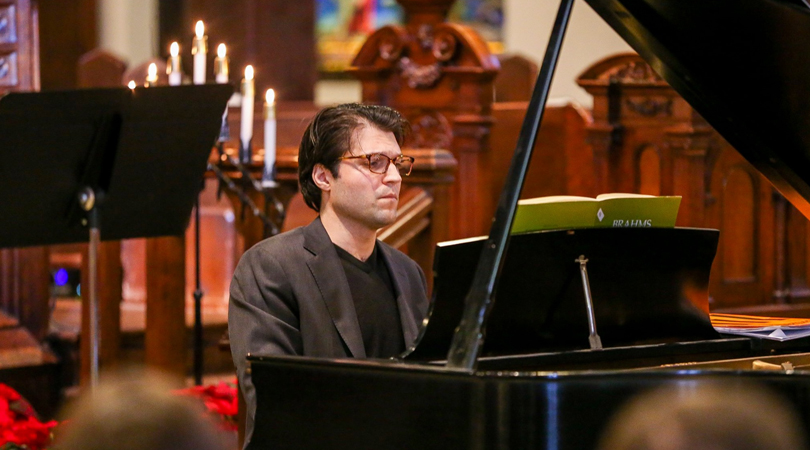 Jason Solounias has performed across the United States and Europe, ranging from the Kennedy Center to Southwark Cathedral, including performances at Millennium Stage, the Lincoln Theater, Steinway Society of Puerto Rico, Duomo di Almalfi, Junior Soto Recital Hall, The Arts Club of Washington, WETA, Church of Epiphany Concert Series, and the Lisner Auditorium. He has collaborated with 6821 Quintet, The Tango Cammerata and has appeared as a soloist with the Trinity Chamber Orchestra and the Pan American Symphony Orchestra.
Solounias began his studies in his home town of Havre de Grace, Maryland with Irene Yeakel and went on to complete his Bachelors of Arts at Shepherd University with Scott Beard. He received his Master's of Music and Doctorate of Musical Arts from the Catholic University of America under the direction of Jim Litzelman and Jose Ramos Santana. He has also worked with pedagogues including Emanuel Krasovsky, John Perry, and Leon Fleisher.  
Solounias is the Director of the Puerto Rico International Piano Festival, a non profit organization that hosts a summer intensive program of masterclasses, lessons, and recitals at the Conservatory of Music in San Juan.  Solounias is also the co-artistic director of the Kosciusko Foundation Chopin Competition for Young Pianists and the Chopin Piano Academy.  
Solounias has released his debut album under the Sheva Collection Label featuring the piano music of Heitor Villa-Lobos.  He was a featured performer during the 2019 Experiencing Villa-Lobos festival at the Virginia Commonwealth University.
Solounias has many years of teaching experience and has worked in a variety of institutions.  He is a faculty member at Levine Music in Washington D.C. and at Opal Music Studio in Alexandria Virginia.
See more photos from the event and follow along on Facebook.